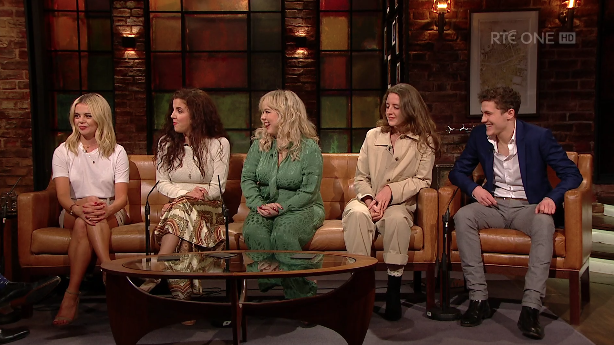 Talk of accents, Donald Trump, being recognised in the United States and their famous mural.
AS YOU PROBABLY know by now, last night The Late Late Show was graced with the presence of Saoirse Monica Jackson, Jamie-Lee O'Donnell, Louisa Harland, Nicola Coughlan and that wee English fella, Dylan Llewellyn.
If you're not currently keeping up to date with all of the Derry Girls on social media, you'll know that Nicola Coughlan's Derry accent is, as she puts it, 100% fake. Last night when Jamie-Lee and Saoirse told Ryan that they were 'Very, Very, Derry', Nicola explained that she'll always be a Galway girl, and Louisa admitted, "I'm a Dub."
So naturally, Nicola and Louisa had some work to do on their accents. Nicola explained once again, that she has Nadine Coyle to thank for everything. Don't we all? Nicola spent hours perfecting Nadine's accent, watching the famous passport scene from Irish Popstars. She readily rattled off the impression for the audience last night too. Spot on.
Dylan revealed that he needed a lot of help from the girls when he arrived on set, because he hadn't got a clue what they were saying. If anything, his confusion helped his role. He explained that every time he heard one the actors say "Ach" at the start of a sentence, he thought they "had a cold or something". He also had no idea what a wean was.
Wee means small? But also can mean big, which blew my mind!
Then, Ryan turned the conversation to the fab Derry Girls mural which was painted to promote the second series of the show.
Ryan asked how it felt for the girls. Jamie-Lee replied, "Mental. I'd say it's awful for any of my ex boyfriends at home." What an incredibly Michelle response. Saoirse said:
It's a brilliant thing for Derry. It's a positive thing, the mural is positive and it definitely takes your breath away when you see it. I've only seen it once but my brother has to pass it by every day on the way to work, which he loves. I'm a lot cooler [to him] now.
Jamie-Lee still hasn't been able to make the trip to Derry to see it, because she's been acting in a play in Dublin since the mural was completed at the end of January. She has obviously seen it online, because who hasn't? She told Ryan, "Someone said I look like Peter Andre in it, which is fantastic. I mean, I do. I think he's a good looking man, I take it as a compliment." Continue reading →