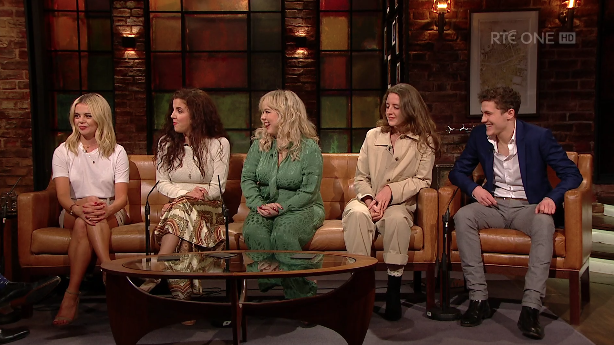 Talk of accents, Donald Trump, being recognised in the United States and their famous mural.
AS YOU PROBABLY know by now, last night The Late Late Show was graced with the presence of Saoirse Monica Jackson, Jamie-Lee O'Donnell, Louisa Harland, Nicola Coughlan and that wee English fella, Dylan Llewellyn.
If you're not currently keeping up to date with all of the Derry Girls on social media, you'll know that Nicola Coughlan's Derry accent is, as she puts it, 100% fake. Last night when Jamie-Lee and Saoirse told Ryan that they were 'Very, Very, Derry', Nicola explained that she'll always be a Galway girl, and Louisa admitted, "I'm a Dub."
So naturally, Nicola and Louisa had some work to do on their accents. Nicola explained once again, that she has Nadine Coyle to thank for everything. Don't we all? Nicola spent hours perfecting Nadine's accent, watching the famous passport scene from Irish Popstars. She readily rattled off the impression for the audience last night too. Spot on.
Dylan revealed that he needed a lot of help from the girls when he arrived on set, because he hadn't got a clue what they were saying. If anything, his confusion helped his role. He explained that every time he heard one the actors say "Ach" at the start of a sentence, he thought they "had a cold or something". He also had no idea what a wean was.
Wee means small? But also can mean big, which blew my mind!
Then, Ryan turned the conversation to the fab Derry Girls mural which was painted to promote the second series of the show.
Ryan asked how it felt for the girls. Jamie-Lee replied, "Mental. I'd say it's awful for any of my ex boyfriends at home." What an incredibly Michelle response. Saoirse said:
It's a brilliant thing for Derry. It's a positive thing, the mural is positive and it definitely takes your breath away when you see it. I've only seen it once but my brother has to pass it by every day on the way to work, which he loves. I'm a lot cooler [to him] now.
Jamie-Lee still hasn't been able to make the trip to Derry to see it, because she's been acting in a play in Dublin since the mural was completed at the end of January. She has obviously seen it online, because who hasn't? She told Ryan, "Someone said I look like Peter Andre in it, which is fantastic. I mean, I do. I think he's a good looking man, I take it as a compliment."
Nicola and Louisa said the fact that Derry Girls was added to Netflix in the United States has been a huge deal. Two weeks after the show was added to the American Netflix catalogue, Louisa and Nicola went on a trip to New York. Within minutes of landing, Nicola was told, "You look like Clare from Derry Girls." The pair of them hadn't even considered that they might have been recognised in New York, but they were bought shots in every single bar that they went to, by people who knew their character's names. Pretty mad. One woman saw Louisa Harland and screamed, "MY GIRL ORLA!!!"
Louisa said the fame "doesn't sit well with her" at times, but she's lucky enough to get away with it because nobody has any idea who she is when she uses her natural Dublin accent. "Sometimes I take pictures of people with the rest of the girls, and it suits me fine. But I love the free shots. I think the word 'celebrity' is a bit hard to swallow."
Jamie-Lee says she's recognised quite a bit, and nearly everyone who approaches her expects her to be as mad as her character Michelle. Saoirse Monica Jackson said that the show is filmed so close to where she lives that she bumped into people from school while she was shooting scenes during the first season.
Ryan asked if it was strange for the cast to essentially relive the history of Derry in the 1990s, particularly for Jamie-Lee and Saoirse whose parents grew up there during the troubles. Jamie-Lee explained that because Derry is a place with such a rich history, everybody knows the stories.
You know how your family came through it. Even kids who aren't even born yet will know a lot about it. It is carried down through generations, and obviously it wasn't that long ago, a lot of the history. [Pointing to Saoirse]: Your family as well would be the same, everybody knows the stories and what happened, and things like that. It is carried down.
Jackson added that on nights out in Derry and Belfast, people come up and say that they can really relate to the comedy of The Troubles. "People come up and tell you their funny stories. It's like, I'll pass that on to Lisa, but I think she's got it nailed."
Dylan admitted that this was all completely alien to him:
They don't teach it in UK schools, which I think is a shame because we're next door neighbours.
Never mind the fact that we're next door neighbours, they don't even teach kids about Britain's involvement in The Troubles. Dylan added, "I don't wanna say anything else because I'm scared of saying [the wrong thing]." The girls dived in to try and help him out, but Ryan Tubridy interrupted and said, "And then the Queen came over and now we're all friends." Eh, yeah, okay.
Nicola then told Dylan that he's the most beloved Englishman in Ireland since Jack Charlton, which was a nicer way of changing the subject.
Towards the end of their interview, the actors from Derry Girls agreed that their families were all nearly more excited to see Jessie Buckley on The Late Late Show, as they were longtime fans who watched her on I'll Do Anything. Ryan asked if there was a third series in the works yet, and the girls joked that in season three they'll have Bill and Hillary Clinton, as well as the Obamas. "But not Trump. We don't want him."
Derry Girls returns on Tuesday the 5th of March at 9.15pm. We can't wait.
Source: Everything you missed from the Derry Girls interview if you didn't tune into The Late Late Show