---

Trump has demonstrated an incapacity in leadership"
– Steve Schmidt
"We have never been as a country so weak as we are now, so pitied by our friends around the world, so cheered on by our adversaries as we decline.
Sept 17
A vaccine under Trump admin is not trusted
Barely half of Americans say they will get a coronavirus vaccine, a new poll finds, down from 72 percent in May. | Source: NY Times
AG Barr compares lockdown to slavery
Attorney General William Barr argued Wednesday that coronavirus-related lockdown orders were surpassed only by slavery as the "greatest intrusion on civil liberties" in the nation's history.
---
'Herd mentality' and waiters should not wear masks
During a live "Town Hall" television appearance last evening, the president spoke of "herd mentality," rather than "herd immunity," as the ultimate solution to the covid-19 pandemic. Trump also opined why he thought it was dangerous for waiters in restaurants to wear masks.
Sept 16
CDC's Redfield testifies before congress: Wear a mask
Dr. Robert R. Redfield, the director of the Centers for Disease Control and Prevention, told senators that if all Americans wore masks, the coronavirus could be controlled in six to 12 weeks. Redfield said masks were so vital in fighting Covid-19, that wearing a mask may even more important than a vaccine. Trump commented almost immediately that Redfield "made a mistake," maintaining that a "vaccine is much more effective than the masks." | Source: NY Times
Michael Caputo will be gone for 60 days to 'rest'
Michael Caputo, assistant secretary for public affairs at the Department of Health and Human Services, is taking a 60-day medical leave, three days after urging President Trump's supporters to prepare for an armed insurrection and accusing government scientists of "sedition,."the agency announced Wednesday | Source: Washington Post
Trump said he has saved millions
Trump said Tuesday that he could not have done more to stop the spread of the novel coronavirus, a claim disputed by many epidemiologists and even privately by some members of his own administration. "I think what I did by closing up the country, I think I saved two, maybe two and a half, maybe more than that, lives," Trump said.
Gates Report is grim
The coronavirus pandemic has scorched away years of work: More families are in dire poverty, malnutrition is increasing, far fewer children are getting immunized. "The longer the pandemic lasts, the worse its economic scars will be," said tech philanthropist Bill Gates.
If this pandemic produces "an administration and a Congress that are more open-minded, you could really do a grass-roots thing."
Sept 15
Vaccine Becomes Heated Campaign Issue
North Carolina Democratic Senate candidate Cal Cunningham said Monday during a debate that he would be "hesitant" to take a vaccine for COVID-19 approved by U.S. Election Day, leading Republicans nationwide to characterize him and Democrats as "anti-vaxxers."

"Historically and traditionally I would support and have confidence in the Food and Drug Administration and the processes they go through to approve a drug," Cunningham said. "But we have seen an extraordinary corruption in Washington." | Source: NPR
Trump health appointee apologizes to HHS staff after accusing scientists of 'sedition'
Michael Caputo, assistant secretary for public affairs at the Department of Health and Human Services – apologized for his remarks and the embarrassment they brought upon the agency, according to the people, who spoke on the condition of anonymity to discuss the proceedings. He also indicated his departure might be imminent, saying he was considering a medical leave. He added that his family had been receiving threats and that his physical health was in question. | Source: Washington Post
The world believes Trump has handled the pandemic poorly
In a new poll of 13 nations released Tuesday, a median of 15 percent of respondents said the United States had handled the pandemic well, while 85 percent said the country had responded poorly.
The data, released by Pew Research Center, suggests that the international reputation of the United States has dropped to a new low in the face of a disorganized response to the novel coronavirus. The country leads the world in virus-related deaths. | Source: BBC News
Sept 14
Trump Health Aide Falsely Alleges Conspiracies and Warns of Armed Revolt
Michael Caputo, the assistant secretary of health for public affairs, told a Facebook audience without evidence that left-wing hit squads were being trained for insurrection, and he accused C.D.C. scientists of "sedition."
"You understand that they're going to have to kill me, and unfortunately, I think that's where this is going," Mr. Caputo, a Trump loyalist installed by the White House in April, told followers in a video he hosted live on his personal Facebook page | Source: NY Times
Trump #MAGA loyalists refuse masks
Sept 13
Sept 12
"Americans really need to understand the historic emergency unfolding right now: the CDC is trying to get accurate information to the public about a virus that's killed 200,000 Americans in 6 months, and a longtime *Kremlin agent* is editing and falsifying the CDC reports first" | Source: Newsweek journalist Seth Abramson
Fauci disagrees with Trump's claim that U.S. has 'rounded the final turn' on coronavirus
Top infectious-disease expert Anthony S. Fauci said Friday that he disagrees with President Trump's claim that the United States has "rounded the final turn" of the coronavirus crisis, calling the country's latest virus statistics "disturbing."
Sept 11
Trump Appointees Meddled in C.D.C.'s Health Reports
Political appointees at the Department of Health and Human Services have repeatedly asked the Centers for Disease Control and Prevention to revise, delay and even scuttle reports on the coronavirus that they believed were unflattering to President Trump. | Source: NY Times
Sept 10
Editorial: Hold Trump responsible for the deaths and economic ruin that have occurred on his watch
We have heard Trump admit that he understood the severity of the coronavirus threat but downplayed it to the American public. His refused to take prompt, aggressive action and peddled dangerous quack remedies. He goaded governors to reopen their states prematurely and scorned mask-wearing. Knowing that the virus was an airborne, deadly disease, he continued to hold rallies without social distancing or a mask requirement. His actions almost certainly contributed to the death toll of 187,000 Americans — tens of thousands of lives might have been saved by prompt, effective leadership.

Jennifer Rubin / Washington Post
Trump acknowledges he intentionally downplayed deadly coronavirus, now says effort was to reduce panic
"So the fact is, I'm a cheerleader for this country. I love our country. And I don't want people to be frightened," Trump told reporters at the White House
Ad: Trump knew. Did nothing. Thousand died
Pandemic Financially Imperils Nearly Half Of American Households
The U.S. facing a cascade of economic and health-related problems revealed in a new survey by NPR. The poll finds nearly half the households in America — 46% — report facing serious financial pain during the pandemic
Sept 9
Facebook won't remove anti-vaccine posts despite Covid concerns
Mark Zuckerberg of the Facebook said he would not remove anti-vaxxer posts, even as the leading virus experts express cautious optimism that a Covid-19 vaccination may become available late this year or early next year.
"If someone is pointing out a case where a vaccine caused harm or that they're worried about it – you know, that's a difficult thing to say from my perspective that you shouldn't be allowed to express at all," Zuckerberg said. Zuckerberg acknowledged that conservative voices and opinions rank as Facebook's most engaged content. | Source: The Guardian
Fauci: Lack of masks at Trump rallies frustrating
The nation's top infectious diseases expert, said that the lack of masks at President Trump's campaign rallies is frustrating.
"Is that frustrating to you?" host Gayle King asked Fauci on "CBS This Morning," noting the lack of masks among some attendees at Trump's rallies amid the coronavirus pandemic.
"Well, yes it is, and I've said that often," Fauci, responded. "That situation is we want to set an example."
Financial Pain From Coronavirus Pandemic 'Much, Much Worse' Than Expected
In America's four largest cities, at least half of people say they have experienced the loss of a job or a reduction in wages or work hours in their household since the start of the coronavirus outbreak. That's the finding of a new poll published Wednesday by NPR, the Robert Wood Johnson Foundation and the Harvard T.H. Chan School of Public Health.
Bob Woodward's new book says Trump intentionally downplayed 'deadly' virus
Donald Trump told journalist Bob Woodward that he knew the coronavirus was more deadly and contagious than the flu while he continued to downplay its dangers to the public, according to Woodward's new book "Rage."
"I wanted to always play it down. I still like playing it down, because I don't want to create a panic," Trump told Woodward on March 19 in excerpts of audio interviews obtained by CNN.
N.I.H. Director Undercuts Trump's Comments Speculating About a Vaccine by Election Day
Two top health officials appeared before a Senate panel the day after AstraZeneca announced a hold in a vaccine trial. Britain will ban most gatherings of more than six people starting Monday.
Major human trial for a coronavirus vaccine stops for an 'unexplained illness'
As President Trump pushes for a coronavirus vaccine before the November election, one major vaccine trial has been halted after a participant developed symptoms of a "potentially unexplained illness." After the British participant became sick, AstraZeneca and the University of Oxford paused human trials to evaluate whether the person's condition could be related to the vaccine | Source: Washington Post
Sept 8
9 Drug Companies Issue a Joint Pledge to Thoroughly Vet Vaccines
Nine drug companies issued a joint pledge on Tuesday that they would "stand with science" and not put forward a vaccine until it had been thoroughly vetted for safety and efficacy. | Source NY Times
Trump's biker rally cost government 12 billion in health costs
Sept 7
Vice President nominee says she would not trust a vaccine rushed by Trump admin
For Long-Haulers, Covid-19 Takes a Toll on Mind as Well as Body
in recent months has more attention been given to long-haulers. In online support groups like Body Politic and Survivor Corps, long-haulers have produced informal surveys and reports to study their course of illness. Dr. Teodor Postolache, a psychiatrist at the University of Maryland School of Medicine, estimates that between one-third and one-half of Covid-19 patients experienced some form of mental health problem including anxiety, depression, fatigue or abnormal sleeping | Source: NY Times
Sept 6
Fauci warns not to send students home
"It's the worst thing you could do," said Dr. Anthony Fauci, director of the National Institute of Allergy and Infectious Diseases on NBC's "TODAY" show. "When you send them home, particularly when you're dealing with a university where people come from multiple different locations, you could be seeding the different places with infection," | Source: NBC
Pharma Companies Plan Joint Pledge on Vaccine Safety
The statement is meant to reassure the public that the companies will not seek a premature approval of vaccines under pressure from the Trump administration. | Source: NY Times
Sept 5
Students expelled and university keeps their tuition
Boston's Northeastern University says it has dismissed 11 students who gathered in a hotel room in violation of the school's coronavirus policies and will not refund their tuition, marking one of the most severe punishments that college students have faced for breaking pandemic rules.
Sept 3

"Today it's her, tomorrow it's me."
Thousand of eviction notices served in U.S.
The Election Day Surprise Vaccine
The Centers for Disease Control and Prevention is telling state health officials to be ready to distribute a coronavirus vaccine to health-care workers and other high-priority groups as soon as Nov. 1, heightening fears that the agency is under pressure to approve a vaccine before Election Day.
Experts fear politics will taint COVID-19 vaccine approval
Worries deepened last week when the FDA and the CDC — another federal health agency once considered inviolable — made widely criticized decisions, apparently in response to pressure from the White House. "Any hint of political pressure would feed into the vaccine skeptic and antivaccine groups," said Dr. William Schaffner, professor of preventive medicine and infectious diseases at the Vanderbilt University School of Medicine.| Source: Boston Globe
Polling on "Warp Speed": 35% say they won't accept a rushed vaccine
Per an NPR/PBS NewsHour/Marist poll released in August, 60% of Americans say they will choose to be vaccinated if a COVID-19 vaccine is made available to them, and 35% would decline
"While there are no guarantees in science," Trump officials wrote, "we can assure Americans that [Operation Warp Speed] is structured, resourced and led to maximize the probability of success."
Sept 2
Trump's new coronavirus adviser has questioned masks and alarmed government scientists.
Dr. Scott W. Atlas has argued that the science of mask wearing is uncertain, that children cannot pass on the coronavirus and that the role of the government is not to stamp out the virus but to protect its most vulnerable citizens as Covid-19 takes its course. | Source: NY Times
Fauci Debunks Trump's Death Toll Retweet
Citing Johns Hopkin University data that 6 million coronavirus cases have been recorded in the U.S. and over 183,000 people have died (a number which has since risen to over 184,000), Robach asked Fauci: "can you explain why the president would retweet a theory that suggests only 9,000 people have died of COVID-19?"
"Let [there] not be any confusion about that," said Dr. Fauci. " It's not 9,000 deaths from COVID-19." | Source: Newsweek
Trump won't join WHO-linked effort to develop, distribute coronavirus vaccine
The Trump administration said it will not join a global effort to develop, manufacture and equitably distribute a coronavirus vaccine, in part because the World Health Organization is involved, a decision that could shape the course of the pandemic and the country's role in health diplomacy. "It's about: Are you a reliable partner, or, at the end of the day, are you going to keep all your toys for yourself?" | Source: Washington Post
Sept 1
FEMA To Stop Paying For Cloth Face Masks For Schools
Some states may face a budget crunch as they try to carry out the protective measures necessary to reopen schools and other aspects of society. | Source: NPR
August 31
Trump's 'herd immunity' strategy, worrying public health officials
Trump adviser Scott Atlas, who does not have a background in infectious diseases or epidemiology, has expanded his influence inside the White House by advocating policies that appeal to Trump's desire to move past the pandemic and get the economy going, distressing health officials on the White House coronavirus task force and throughout the administration who worry that their advice is being followed less and less. | Source: Washington Post
August 30
Covid patients are still receiving staggering bills
Critics say Trump's stopgap program is among the strongest evidence that he and his party have no vision for improving health coverage, and instead promote piecemeal solutions, even in a national health crisis. "This is not the way you deal with uninsured people during a public health emergency," said Sara Rosenbaum, a professor of health law and policy at George Washington University. | Source: NY Times
August 29
FDA spokesperson fired 2 weeks into the job
The Food and Drug Administration's chief spokeswoman, who has been in the job less than two weeks, was removed from that role as of noon Friday, part of continued fallout from a White House news conference featuring inaccurate claims that convalescent plasma dramatically reduced mortality for patients with covid-19, the disease caused by the coronavirus.
August 28
The past five days:
Five days
— Largest Countries in Europe (340m pop): 250 deaths
— The United States (330m pop): 5,500+ deaths
No Masks for GOP
August 27
A "dangerous step back" for a country still struggling to contain the virus
Officials in the Trump administration told the Centers for Disease Control and Prevention to begin discouraging people without symptoms from being tested, two federal health officials said Wednesday. President Trump has long complained that the U.S. does too much testing, returning high numbers of infections that make the country look bad.
August 26
Maskless protesters storm Idaho capitol
Protesters broke down a door, ripped up signs and pulled down the rope that was meant to reserve distanced seats for legislators. Authorities arrested and wheeled anti-government activist Ammon Bundy out of the building, still tied to a rolling chair after he refused to leave an auditorium in the statehouse.| Source: Washington Post
August 25
FDA chief apologizes for misleading claim
FDA chief Stephen Hahn on Tuesday apologized for overstating the life-saving benefits of treating COVID-19 patients with convalescent plasma. "I have been criticized for remarks I made Sunday night about the benefits of convalescent plasma. The criticism is entirely justified. What I should have said better is that the data show a relative risk reduction not an absolute risk reduction," Hahn tweeted.
---
Fauci warns against emergency coronavirus vaccine approval before widespread testing
"The one thing that you would not want to see with a vaccine is getting an EUA [emergency use authorization] before you have a signal of efficacy," Fauci, a key member of the White House coronavirus task force, said in an interview with Reuters.
"One of the potential dangers if you prematurely let a vaccine out is that it would make it difficult, if not impossible, for the other vaccines to enroll people in their trial."
---
August 24
F.D.A. Authorizes Blood Plasma as a Virus Treatment
It's just extraordinary to declare this as a breakthrough…. All this does is jeopardize ever getting the truth."

Eric Topol, Director of the Scripps Research Translational Institute
The Food and Drug Administration on Sunday gave emergency approval for expanded use of antibody-rich blood plasma to help hospitalized coronavirus patients, allowing President Trump, who has been pressuring the agency to move faster to address the pandemic, to claim progress on the eve of the Republican convention.
August 23
Trump without evidence accuses 'deep state' at FDA of slow-walking coronavirus vaccines and treatments
The tweet — an escalation of the president's campaign against administration scientists — said regulators want to delay approvals until after the Nov. 3 election for political reasons. "The deep state, or whoever, over at the FDA is making it very difficult for drug companies to get people in order to test the vaccines and therapeutics," Trump said on Twitter | Source: Washington Post
No Covid vaccine before winter of 2021, warns Chief Medical Officer
Britain's Chief Medical Officer Chris Whitty says it could take another year before a safe vaccine is developed and ready for widespread distribution. | Source: The Telegraph
August 22
Pence: "Couldn't be more proud" of Trump's leadership
Vice President Pence said he "couldn't be more proud" of President Trump's leadership during the coronavirus pandemic, and said during a "Good Morning America" appearance that if Democratic nominee Joe Biden had been in charge, the losses — 171,000 dead and counting under the current administration — would have been worse.
August 21
Trump's controversial system of reporting hospital data around COVID-19 will soon be canceled
The U.S. Centers for Disease Control and Prevention is working "to build a revolutionary new data system" for COVID-19 hospital data collection that the CDC will run upon completion, according to Dr. Deborah Birx of the White House Coronavirus Task Force. Trump had mandated that hospitals sidestep the agency and send critical information about COVID-19 hospitalizations and equipment to a different federal database | Source: NPR
August 19
Doctors rebuff unproven and potentially dangerous oleander
"Don't go near this plant," said Matthew Heinz, M.D., an Arizona-based internal medicine physician currently caring for hospitalized COVID-19 patients. Accidentally ingesting even small amounts of oleandrin can kill you, said Heinz. The plant extract has been promoted by MyPillow CEO Mike Lindell, who told Axios he discussed the use of oleandrin as a treatment for COVID-19 during an Oval Office meeting with President Donald Trump.| Source: ABC News
Americans are "embarrassed"
A strong majority of Americans (58%) in a new poll disapproved of President Donald Trump's handling of the coronavirus pandemic, with 68% saying they're embarrassed by the US response. The US has the most reported coronavirus cases and fatalities in the world.| Source: Business Insider
Kudlow says unemployed workers don't need $600 stimulus
Fauci contradicts Trump again
"We'd better be careful when we say 'Young people who don't wind up in the hospital are fine, let them get infected, it's OK.' No, it's not OK," Dr. Fauci said .
Trump said on Fox and Friends Aug. 5. "If you look at children, children are almost, I would almost say definitely, but almost immune from this disease."
Young people driving new outbreaks
The World Health Organization said Tuesday that young people are increasingly driving the spread of the coronavirus in many countries. There have been 22 million coronavirus cases reported worldwide.
August 18
Anderson Cooper has heated exchange with MyPillow CEO over unproven and dangerous COVID-19 treatment
August 17
Why Herd Immunity Won't Save Us
Even in the U.S., at 60,000 cases per day, it would take at least until 2021 — and possibly years of filled hospitals and morgues — before the requisite hundreds of millions of Americans were infected.
"I think if you were to just let this process occur, it's very difficult to project the number of deaths, but I think we're certainly talking north of a million, probably much more," says Dr. Joshua Schiffer, an associate professor in the Vaccine and Infectious Disease Division at the Fred Hutchinson Cancer Research Center in Seattle. | Source: NPR
Trump now touting oleander plant extract as Covid cure
Donald Trump has expressed enthusiasm for the Food and Drug Administration to permit an extract from the oleander plant to be marketed as a dietary supplement or, alternatively, approved as a drug to cure COVID-19, despite lack of proof that it works. | Source: Axios
August 16
Vaccine: A fiasco hampered by corruption
"Everything hinges on the federal government's effort to develop and distribute a vaccine: Will it be an honest, well-managed effort based on sound scientific principles, or will it be a fiasco hampered by corruption, cronyism, and the influence of Big Pharma? Unfortunately, we are starting to see signs of the latter.
The New York Times reported worries that the White House is pressuring government researchers and regulators to have a vaccine available before the election" | Source: Bill Moyers , NY Times
Tired of 'winning' yet?
New covid-19 deaths, yesterday:
France: 18
Australia: 14
Spain: 12
UK: 11
Japan: 10
Germany: 8
Canada: 5
USA: 1,120
During a pandemic …
"It is what it is"
40% of US Covid-19 Tests come back too late to be clinically meaningful, date shows | Source: CNBC News
August 15
CDC: Americans are suffering from depression, substance abuse
Nearly 41 percent of U.S. adults reported struggling with mental health or substance abuse, a new CDC survey revealed.
Romney is only Republican to criticize Trump virus response
Sen. Mitt Romney (R-Utah) offered rare Republican criticism of the Trump administration's coronavirus response Friday, saying the federal government dismissed the virus's threat and failed to take charge.
"We have 5 percent of the world's population but 25 percent of the world's deaths due to covid-19."
"And there's no way to spin that in a positive light," Romney said.
August 14
Is it safe?
Governors face a difficult decision on schools. Many public health experts have argued that their policies on reopenings should account for not only new infections and testing but also the risks of hospitalizations and deaths | Source: NY Times
August 13
Educators, parents don't trust Trump on virus
Trump has pushed for schools to reopen, yet key constituencies — parents and educators — have largely moved in the other direction.
A July poll by Education Week found that roughly 60 percent of educators said the pandemic had worsened their view of Mr. Trump, who already faired poorly with much of that group. A recent Washington Post poll found that parents disapprove of Mr. Trump's handling of school reopening by a two-thirds majority. And a new Gallup poll showed that fewer parents want their children to return to school buildings now than they did in the spring.
True Covid deaths probably over 200,000
Across the United States, at least 200,000 more people have died than usual since March, according to a New York Times analysis of estimates from the Centers for Disease Control and Prevention. This is about 60,000 higher than the number of deaths that have been directly linked to the coronavirus.
August 11
Russia will approve vaccine
A Russian health care regulator has become the first in the world to approve a possible vaccine against the coronavirus, President Vladimir Putin announced today, although the vaccine has yet to complete clinical trials. The Russian dash for a vaccine has already raised international concerns that the country is rushing approval for political purposes.
August 10
Can schools safely open?
Nearly 100,000 children tested positive in the last two weeks of July, according to a new report. | Source: NY Times
August 9
COVID-19 May Never Go Away — With Or Without A Vaccine
"In three to five years it may be that you're still getting COVID-19 in certain populations of people or every few years, but the expectation is hopefully that it'll just be a common cold and it's something that we can just each deal with and it won't lead to hospitalization and the shutting down of society." – Dr. Vineet Menachery, Coronavirus researcher | Listen to the interview at NPR
August 8
Report on children with inflammatory syndrome associated with Covid-19
Hundreds of children in America, most of them previously healthy, have experienced an inflammatory syndrome associated with Covid-19, and most became so ill that they needed intensive care, according to a new report from the Centers for Disease Control and Prevention | Source: NY Times
Governor's false-positive creates "Covid doubt" for some Republicans
Ohio Gov. Mike DeWine's false-positive test is troubling public health experts, who on Friday expressed fear that the error will become a misleading data point for those who doubt the coronavirus pandemic's severity or, in some cases, its very existence. | Source: Washington Post
States struggle without leadership from Washington
Trump's imprudent decision to leave the pandemic response to the states have left governors overwhelmed, unable to get a foothold in global markets for supplies and equipment. | Source: Washington Post
Aug 7
Nearly 300K could die from COVID-19 by December, model projects
Nearly 300,000 Americans could die from the coronavirus by early December, according to new projections from the Institute for Health Metrics and Evaluation at the University of Washington. Yet the number could be lower if more Americans wore masks. | Source: MSNBC News
Coronavirus Cases Are Surging. The Contact Tracing Workforce Is Not
With coronavirus cases increasing in more than half of states, America has neither the staff nor the resources to be able to trace the contacts of every new case — a key step in the COVID-19 public health response | Source: NPR
Aug 6
Dr. Fauci receiving death threats from extreme right wing
"The unseemly things that crises bring out in the world; it brings out the best of people and the worst of people," Dr. Anthony Fauci told CNN . "And getting death threats to my family and harassing my daughters to the point where I have to get security — it's amazing."
Twitter, Facebook Remove Trump Post Over False Claim About Children And COVID-19
Both Twitter and Facebook have removed a post shared by President Trump for breaking their rules against spreading coronavirus misinformation.
Twitter temporarily blocked the Trump election campaign account from tweeting until it removed a post falsely claiming that children are "almost immune from this disease." | Source: NPR
FDA reassures nation that vaccine will not be rushed for an "October Surprise"
"I have been asked repeatedly whether there has been any inappropriate pressure on the FDA to make decisions that are not based on good data and good science. I have repeatedly said that all FDA decisions have been, and will continue to be, based solely on good science and data. The public can count on that commitment" – Stephen M. Hahn, a physician, is commissioner of the Food and Drug Administration.
Trump/USA's unique failure
One country stands alone, as the only affluent nation to have suffered a severe, sustained Covid outbreak for more than four months: the United States. "If you had to summarize our approach, it's really poor federal leadership — disorganization and denial," said Andy Slavitt, who ran Medicare and Medicaid from 2015 to 2017.| Source: NY Times
Aug 5
Relief extension now on Trump's table
Senate Majority Leader Mitch McConnell now says he would support an extension of the now-lapsed $600 federal unemployment insurance relief every week if Trump backs it. | Source: MSNBC
New data show that Americans are suffering from record levels of mental distress
According to the National Center for Health Statistics, roughly one in 12 American adults reported symptoms of an anxiety disorder at this time last year; now it's more than one in three. Last week, the Kaiser Family Foundation released a tracking poll showing that for the first time, a majority of American adults — 53 percent — believes that the pandemic is taking a toll on their mental health. | Source: NY Times
Cases near 5 Million in U.S.
With coronavirus cases nearing 5 million in the United States and average daily deaths topping 1,000, the United States is the hottest hot spot in the ongoing global pandemic
Americans Support Aggressive Measures To Stop COVID-19
With the national death toll from COVID-19 passing the grim 150,000 mark, an NPR/Ipsos poll finds broad support for a single, national strategy to address the pandemic and more aggressive measures to contain it | Source: NPR
Aug 4
Trump interview shows he is incapable of understanding the crisis
Aug 2
Trump attacks Birks as "pathetic"
As he has with other pandemic advisers who deliver bad news, President Trump promptly attacked Dr. Deborah Birx, tweeting Monday that the physician "hit us" to appease Democrats critical of the White House response. "Pathetic!" Trump wrote. | Source: Twitter
Dr. Birx warns US is 'in a new phase' of coronavirus pandemic with more widespread cases
Dr. Deborah Birx, the White House coronavirus task force coordinator: "What we are seeing today is different from March and April. It is extraordinarily widespread. It's into the rural as equal urban areas," | Source: CNN
Aug 1
Infections soar in U.S. – particularly in Midwest
The seven-day average for new infections is hovering around 65,000 for two weeks in what amounts to a second wave of cases. The U.S. recorded more than 1.9 million new infections in July, nearly 42 percent of the more than 4.5 million cases reported nationwide since the pandemic began and more than double the number documented in any other month, according to a Times database.
July 31
COVID-19 Hospital Data System That Bypasses CDC Plagued By Delays, Inaccuracies
Earlier this month, when the Trump administration told hospitals to send crucial data about coronavirus cases and intensive care capacity to a new online system, it promised the change would be worth it. Trump's new public data hub is updated erratically and is rife with inconsistencies and errors, data analysts say. | Source: NPR
Dr. Fauci testifies again before congress
August 1
Distrust may undermine vaccine effort
The current opposition to a coronavirus vaccine is rooted in a climate of conflicting information. Only about half of Americans said in May that they were willing to get a coronavirus vaccine. "We have forces that undermine science, contradictory messages day in and day out that create skepticism and diminish trust in government," warns Dr. Sandra Quinn| Source: NPR
Dire Warnings
"If the nation does not change its course — and soon — deaths in the United States could be well into the multiple hundreds of thousands,"
– the Association of American Medical Colleges
July 30
The U.S. economy suffered its worst quarter since at least 1875
---
Florida to stop testing because of approaching storm
Florida – which has reported more than 451,000 coronavirus cases -will stop testing for the coronavirus for several days due to concerns about the potential impact from Tropical Storm Isaias. Florida's tally is second only to California (475,305 cases) among U.S. states.
One American is dying every minute due to Covid-19
More than 1,400 covid-19-related fatalities were reported Wednesday — about one death every minute — as Florida, North Carolina and Idaho set single-day records. So far Thursday, as data rolls in, Florida again broke that record, and two other states reported their highest number of deaths in a single day.
Former presidential candidate Herman Cainhas died after contracting COVID-19
Cain, who was diagnosed with COVID-19 after attending President Trump's campaign rally in Tulsa without wearing a mask, has died at the age of 74. The businessman and onetime Republican presidential candidate was a former CEO of Godfather's Pizza. Cain had been battling cancer and refused to wear mask during the months of lockdown. | Source: ABC News
20 million jobless Americans are set to lose $600 a week in emergency unemployment benefits
Congress's failure to reach an agreement on a new stimulus package could make the recession even worse. | Source: Washington Post
July 29
Fauci's warning: "Trouble" ahead
Infectious disease expert Anthony S. Fauci warned Wednesday. "Ohio, Tennessee, Kentucky and Indiana … are starting to show that very subtle increase in percent positives among the total tested, Fauci told ABC News. "Which is a surefire hint that you may be getting into the same sort of trouble with those states that the Southern states got into trouble with." | Source: ABC News
July 28
July 27
WHO chief calls coronavirus 'the most severe' health emergency the agency has ever declared
The World Health Organizationsaid Monday it was "easily the most severe" such emergency ever declared by the organization.
Birx: Close the bars
During a visit Sunday to Kentucky, White House coronavirus task force coordinator Deborah Birx encouraged states with rising infection rates — including Kentucky, Tennessee, Ohio, Indiana and Virginia — to close down bars and reduce the maximum size for social gatherings.
July 26
CDC: One-third of COVID-19 patients who aren't hospitalized have long-term illness
"COVID-19 can result in prolonged illness even among persons with milder outpatient illness, including young adults," the report's authors wrote. | Source: NBC News
July 25
Donald Trump Golfs With Brett Favre as a Thousand People a Day Die From COVID-19
President Donald Trump golfed Saturday with NFL legend Brett Favre, and the White House shared a cheery photo of the two in the sun on the links late in the afternoon. Meanwhile, the nation's coronavirus crisis continues to worsen. Confirmed cases in the United States topped 4 million this week, far and away the most of any country in the world.
Birx warns of new hotspots
White House coronavirus task force coordinator Deborah Birx is likening the surges in Florida, Texas and California to the early days of the pandemic, when New York was the U.S. epicenter. "What we have right now are essentially three New Yorks," Birx told NBC's "Today" show.
Fauci: Walk-back reopenings
Anthony S. Fauci, the nation's top infectious-disease expert, said states hit hard by the coronavirus in recent weeks need to halt or walk back their reopenings as they deal with the surge of infections | Source: Washington Post
July 24
A new C.D.C. statement on schools calls for reopening and downplays the potential health risks
The Centers for Disease Control and Prevention published the new guidance two weeks after President Trump criticized its earlier recommendations on school reopenings. "The best available evidence indicates if children become infected, they are far less likely to suffer severe symptoms," the statement said.
'Tsunami' Of Evictions Feared As $600 In Extra Unemployment Payments End
Housing advocates and landlords alike say if Congress doesn't extend or replace the extra payments expiring this weekend, millions of out-of-work Americans won't be able to afford to pay their rent. | Source: NPR
July 22
Fauci: Virus will never be eradicated
U.S. reports more than 1,000 coronavirus deaths in a day for first time since early June
States that reopened quickly – Florida, Arizona and Texas — led the nation in reported deaths, each posting more than 130.
Under-reporting
The number of people infected with the coronavirus in different parts of the United States has been anywhere from two to 13 times higher than the reported rates for those regions, according to data released Tuesday by the C.D.C. | Sources: New York Times; US CDC
Dr. Anthony Fauci says he wasn't invited to Tuesday's White House coronavirus briefing
"I was not invited..." said Dr. Anthony Fauci, director of the National Institute of Allergy and Infectious Diseases. During a CNN interview, Fauci said if he were to attend the meeting Tuesday, he would tell state leaders to adopt mask mandates and encourage them to close bars. | Source: CNN
July 21
At press briefing, Trump warns pandemic may 'get worse before it gets better'
Six months after the first U.S. coronavirus case was confirmed, President Trump's attempt to re-engage with the pandemic.
He called the virus "the China virus" and repeated his false claim that the United States has one of the lowest mortality rates in the world. He said again that the virus "will disappear," for which there is no scientific evidence.
U.S accuses China of hacking covid-19 vaccine research
The United States Justice Department accused the Chinese government of sponsoring criminal hackers who are targeting biotech firms around the world working on covid-19 vaccines and treatments.
July 20
Trump makes false claims about Covid progress in Fox interview: "We are the envy of the world"
Progress on vaccine in UK labs
Three competing laboratories released promising results from early trials in humans… Two of the vaccine developers published their early results as peer-reviewed studies in The Lancet, a British medical journal. | Source: NY Times
Trump continues to assail Fauci
'Well, I don't know that he's a leaker,' President Trump says of Anthony Fauci, director of the National Institute of Allergy and Infectious Diseases. 'He's a little bit of an alarmist.'
July 19
Failed experiment
"I just never expected that we would have such a lack of federal leadership, and it's been deliberate … In a national emergency that is a pandemic, spreading between states, federal leadership is essential. And if there was any doubt about that, we ran that experiment from March and April until now. It failed. So we have to run a different experiment."
Beth Cameron, former senior director for global health security and biodefense on the White House National Security Council
---
Trump admin pushing to block new money for testing
The Trump administration is trying to block billions of dollars for states to conduct testing and contact tracing in the upcoming coronavirus relief bill. Trump and other White House officials have been pushing for states to own more of the responsibility for testing and have objected to creating national standards
Record high cases in U.S.
Arizona on Saturday reported a single-day high in new deaths, another sign that the surge in fatalities health officials had warned about is underway. And North Carolina, Georgia, Kentucky, Wisconsin and Missouri announced record-high new cases | Sources: Washington Post
July 18
How did it get this bad? No leadership from Washington
A New York Times investigation found that President Trump's failure to contain the virus can be traced to mid-April, when the White House rushed to shift responsibility to the states.
July 17
CDC: Wear a mask.
The director of the Centers for Disease Control and Prevention said the pandemic in the United States could be "under control" in just one or two months if everyone wore masks.
Source: Centers for Disease Control and Prevention
Walmart now requires masks
Walmart , the world's largest retailer with a strong presence in rural communities, said masks would be mandatory in their stores.Target, CVS, Kroger, Kohl's and other businesses have followed suit
Trump faces rising disapproval and widespread distrust on coronavirus
The Washington Post-ABC poll shows 38 percent of Americans approve of Trump's handling of the outbreak, down from 46 percent in May and 51 percent in March. Sixty percent disapprove, up from 53 percent in May and 45 percent in March.
More than half of the public — 52 percent — now disapproves "strongly" of Trump's handling of the outbreak | Source: Washington Post
Dr. Fauci criticizes Trump administration's response
"You have got to do it correctly," Fauci said Thursday. "You can't jump over steps, which is very perilous when you think about rebound. The proof of the pudding is, look what has happened. There really is no reason that we are having 40, 50, 60 thousand (new cases daily), other than we are not doing something correctly." | Source: Deadline
---
U.S. Shatters Single-Day Caseload
The daily record of 75,600 new cases comes as more than half the states have enacted mask orders and the number of deaths in the country is increasing.
July 16
In some parts of the U.S., private schools are planning to reopen while public schools are not.
Public schools, which serve roughly 90 percent of American children, have less money, larger class sizes and less flexibility to make changes to things like the curriculum, facilities or work force. | Source: NY Times
July 15
HHS confirms coronavirus hospital data will now be sent to DC instead of CDC
Hospital data on coronavirus patients will now be rerouted to the Trump administration instead of first being sent to the US Centers for Disease Control and Prevention, the Department of Health and Human Services confirmed to CNN on Tuesday. | Source: CNN
too well"
In interview, Trump again says testing is "working
Pence: "We don't want CDC guidance to be the reason people don't open their schools"
Outbreak July 15
It's not just Florida, Arizona, Texas and California anymore. States including Oklahoma and Nevada are reporting record numbers of new coronavirus cases, hospitalizations and deaths
Trump wants the National Guard to help hospitals report coronavirus data
The Trump administration is asking governors to consider sending the National Guard to hospitals to help improve data collection — a decision that is sparking controversy about whether the data is reliable. | Washington Post
July 14
"Best testing in the world" – Hardly.
Quest Diagnostics says its average turnaround time for #COVID19 tests is now 7 or more days for non priority 1 patients.
Quest Diagnostics: "We will not be in a position to reduce our turnaround times as long as cases of COVID-19 continue to increase dramatically across much of the United States. This is not just a Quest issue. The surge in COVID-19 cases affects the laboratory industry as a whole."
July 13
Fauci now marginalized
The White House has moved to sideline Anthony S. Fauci, the nation's top infectious-disease specialist, scuttling some of his planned TV appearances and largely keeping him out of the Oval Office for more than a month after his clashes with President Trump
"No Plan" DeVos joins push to reopen schools
Education Secretary Betsy DeVos stressed the importance of getting students back in classrooms.
"[Betsy DeVos,] you have no plan," tweeted Rep. Ayanna Pressley (D-Mass.)."I wouldn't trust you to care for a house plant let alone my child."
Trump: Doctors are "lying" about Covid-19
Donald Trump has retweeted a claim that the Centers for Disease Control and Prevention (CDC), the media, the Democratic party, and "most" doctors are "lying" about Covid-19 | Source: The Guardian
July 12
Source: NY Times
Trump no longer consults with Dr. Fauci
Dr. Fauci no longer briefs Trump and is "never in the Oval [Office] anymore," said a senior administration official who spoke on the condition of anonymity to discuss internal deliberations. Fauci last spoke to the president during the first week of June, according to a person with knowledge of Trump's calendar. | Source: Washington Post
Fauci: U.S. is "not doing great"
"As a country, when you compare us to other countries, I don't think you can say we're doing great. I mean, we're just not," Dr. Anthony Fauci said in a podcast interview with FiveThirtyEight
July 11
Texas governor didn't listen – "and now Texans die"
July 10
WHO: Aerosolized Particles Unlikely To Be Significant Source Of COVID-19 Transmission
Weighing the evidence, WHO maintains that the coronavirus is mostly spread through close contact with infected people but calls for more research into the matter of transmission by aerosolized particles. | Source: NPR
U.S. Nears 60,000 New Cases a Day
The country recorded its sixth single-day record in 10 days. U.S. immigration officials have helped spread the virus, a Times investigation found. The surge has been driven largely by states in the South and the West that were among the first to ease restrictions established during the virus's initial wave in the spring. | Source: NY Times
July 9
Trump angry with CDC recommendations
The latest clash between the White House and its top public health advisers erupted Wednesday, when the president slammed the agency's recommendation that schools planning to reopen should keep students' desks six feet apart … A senior adviser to a top Health and Human Services Department official accused the CDC of "undermining the President" | Source: Washington Post
July 8
US reaches 3m confirmed Covid-19 cases as Pence pushes for schools to reopen
The US has now confirmed more than 3m cases of coronavirus, far more than any other country in the world. As the Johns Hopkins tracker of US cases surpassed 3m, Mike Pence led a White House cororonavirus task force briefing at the US department of education, urging schools to reopen in the fall despite the pandemic.
"Today's awful — and avoidable — news that America surpassed three million COVID-19 cases is yet another sad reminder of the cost our country is paying for President Trump's failure to lead us through this crisis," the presumptive Democratic presidential nominee Joe Biden said in a statement released by his campaign. | Source: The Guardian
U.S Sunbelt is the global virus capital
There is no country in the world where confirmed coronavirus cases are growing as rapidly as they are in Arizona, Florida or South Carolina. The Sun Belt has become the global virus capital.
Trump formally announces U.S. to leave WHO
The Trump administration on Tuesday formally notified the United Nations that it is withdrawing the United States from the WHO, a move that prompted swift criticism from Democrats and showed Trump's impulse to isolate the country even during a public health crisis.
July 7
Florida unsafe for visitors?
Nearly 1 out of every 100 residents in Florida is infected with the virus, hospital intensive care units are full or filling up and big-name visitors who chose Florida for their first post-isolation events are now mired in questions about safety.
July 6
Scientists urge WHO to address airborne spread of coronavirus
More than 200 scientists from over 30 countries are urging the World Health Organization to take more seriously the possibility of the airborne spread of the novel coronavirus as case numbers rise around the world and surge in the United States.
July 5
Trump: 99% of virus is harmless
Much of the rest of the world is taking a very different approach. It is slowly moving back toward more normal functioning, without setting off major new outbreaks.
July 4
"We have tested over 40 million people. By so doing, we show cases, 99 percent of which are totally harmless. Results that no other country will show, because no other country has testing that we have — not in terms of the numbers or in terms of the quality." – Trump 7/4
July 3
"We need to live with it"
Eager to move forward and reopen the economy amid a recession and a looming presidential election, the White House is now pushing acceptance of the Covis-19 virus.
"The virus is with us, but we need to live with it," is how one White House official said the administration plans to message on the pandemic. | Source NBC News
For This Fourth of July, Officials Say Celebrate Freedom by Staying Home
In the face of cases reaching disheartening new highs, with at least 15 states setting single-day reporting records this week, health officials around the country have urged Americans to scale back their holiday plans. | Source: NY Times
Texas virus surge forces a new mask mandate
In Texas, Gov. Greg Abbott (R) on Thursday issued a statewide mandate requiring Texans to wear masks in public in any county with 20 or more positive covid-19 cases — a dramatic move that comes as cases in the state continue to climb. On Thursday, Texas reported 7,915 new cases of the coronavirus. | Source: Washington Post
Secret Service agents preparing for Pence Arizona trip contracted coronavirus
Vice President Pence's trip to Arizona this week had to be postponed by a day after several Secret Service agents who helped organize the visit either tested positive for the coronavirus or were showing symptoms of being infected.
July 2
Masks and the Culture Wars
Asked whether Americans should be required to wear them, Trump said he wasn't sure they should be mandatory but noted: "I'm all for masks. I think masks are good. I would wear one if I were in a group of people and I was close."
Some Republicans have shunned masks because President Trump has declined to wear them and stressed that doing so was voluntary. "I don't think I'm going to be doing it," he said in April.
Mr. Trump also said that he believed the virus was "going to sort of just disappear," even as cases rise rapidly across the nation. | Source: NY Times
U.S. Sets Record Ahead of Holiday Weekend
The United States set a single-day case record for the fifth time in a little over a week. Heading into the Fourth of July holiday, officials warn residents to stay home
July 1
Fauci before Senate: Death toll "is going to be very disturbing"
Anthony S. Fauci, the nation's top infectious-diseases expert, warned lawmakers Tuesday that there may be as many as 100,000 new cases per day, 2.5 times the present record rate of infections, if the United States continues on its current trajectory. When asked by the Senate's health committee what the overall American death toll might be, Fauci said: "I can't make an accurate prediction, but it is going to be very disturbing."
Mushrooming outbreak in U.S.
The United States announced more than 48,000 new coronavirus infections yesterday, another daily record and an increase of 80 percent in the past two weeks. Dr. Anthony Fauci, the nation's top infectious disease expert, warned the Senate that the number could soon reach 100,000 a day if the country does not act quickly | Source: NY Times
The hope that summer's warm weather would help, that the sacrifices made in March and April would be sufficient, that a miracle cure would arrive — all have been dashed. The United States faces a crisis unseen in recent generations, and if it deepens, the pain won't be only in illness and death but also in education and economics.

Washington Post
June 30
Dr. Fauci to Testify Before Congress Again
Dr. Anthony Fauci and other top health officials will today speak about the virus, which is surging in at least 30 states. The hearing is scheduled to begin at 10 a.m. Eastern, and The New York Times will have live coverage.
June 29
The worldwide toll is continuing to rise, with over 10 million confirmed cases. More than a quarter of deaths have been in the United States.
---
Trump skips Covid meetings; blocks Fauci from media appearances
President Trump no longer participates in many coronavirus meetings, delegating the health crisis to Vice President Pence while the president focuses on his troubled reelection campaign.
The White House has blocked Anthony S. Fauci, its blunt-talking expert on infectious diseases, from some media appearances. | Source: Washington Post
Trump's Covid response called "Amateur Hour" by former NIH head
A former National Institutes of Health chief says the Trump administration's response to the coronavirus has been "amateur hour" and said the administration "doesn't want to or has no concept of what it takes to protect the American people and the world." | Source: NPR
Pence now wearing mask, but not Trump
Vice President Mike Pence made a point of wearing a face mask during public events over the weekend as he and top public health officials said face coverings were critical to reversing recent spikes in coronavirus cases.
His actions stood in stark contrast to those of President Trump, who has steadfastly refused to wear a mask as a way of modeling behavior for the public — even as the nation's top doctors have said they increasingly believe doing so is a critical step in containing the spread of the virus. | Source: NY Times
June 28
The number of new coronavirus cases in the U.S. is surging
Infections nationwide have risen 65 percent over the past two weeks, including in several states that were among the first to reopen. By Saturday evening, more than 41,000 cases of the coronavirus had been announced across the U.S., including single-day records in Nevada, South Carolina and Florida; above Miami on Friday.
June 27
"Something's not working," says the country's top infectious-diseases expert, Dr. Anthony S. Fauci
States reported nearly 38,500 new cases. Texas, Alabama, Missouri and Nevada reported daily highs, | Source: Washington Post
43% of U.S. Coronavirus Deaths Are Linked to Nursing Homes
At least 54,000 residents and workers have died from the coronavirus at nursing homes and other long-term care facilities for older adults in the United States, according to a New York Times database. As of June 26, the virus has infected more than 282,000 people at some 12,000 facilities
June 26
CDC says Covid numbers are actually far worse
CDC Director Robert Redfield acknowledged serology testing the agency has conducted suggests about 20 million Americans, or roughly 6% of the population, has contracted Covid-19. Redfield said for every person who tests positive, another 10 cases have likely gone undiagnosed. | Source: StatNews
All-time high in new U.S. cases
The number of confirmed new coronavirus cases per day in the US hit an all-time high of 40,000 Friday — eclipsing the mark set during one of the deadliest stretches in late April | Source: Boston Globe
Trump works to end health insurance for 23 million
The Trump administration asked the Supreme Court late Thursday to overturn the Affordable Care Act. If successful, the move would end health-insurance coverage, in the midst of a pandemic, for as many as 23 million Americans
June 25
Highest single-day totals of new cases in U.S.
The U.S. recorded 36,880 coronavirus cases on Wednesday, the highest single-day total so far. While some of that reflects an increase in testing, the virus really is spreading more rapidly than it was several weeks ago. Across much of Europe and Asia, by contrast, the situation is less dire. | Source: New York Times
June 24
No kidding
"None of us have ever been told to slow down on testing," Dr. Anthony Fauci told a congressional panel yesterday. "It's the opposite. We're going to be doing more testing, not less."
Trump has faced criticism for telling a Saturday campaign rally — where most attendees did not wear masks, ignoring CDC recommendations — that he wanted to slow coronavirus testing.
White House aides said the president's remarks were in jest, but on Tuesday, Trump doubled down.
"I don't kid," he told reporters before praising the US testing scheme as the best in the world.
"By having more tests, we find more cases," Trump said, even suggesting the high number is a political liability for him during an election year.
June 23
Trump claims he was semi-joking about "slowing down" testing during pandemic
Trump described his Tulsa rally call to slow down testing as "semi-tongue-in-cheek," but he still blamed the country's rising coronavirus caseload on the large number of tests conducted so far. | Source: Washington Post
Fauci to testify before congress
Anthony S. Fauci, the government's top infectious-disease expert, is set to testify on Capitol Hill on Tuesday alongside other leading public health officials, as the United States grapples with the course of its response to the novel coronavirus pandemic.
USA now has 1 in 5 of the word's new cases
As the virus spreads at record speeds around the world, the United States accounted for 20 percent of all the new infections worldwide on Sunday, according to New York Times data, even as the country's population makes up about 4.3 percent of the world's.
New cases continued to surge over the weekend in 22 states, especially in the West and the South. Oklahoma and Missouri reported their largest single-day case increases yet on Sunday.
June 22
Increased caseload in the U.S. is not solely the result of more testing
As the curve of infections in the United States begins to bulge again after flattening in the spring, the Trump administration tried to reset expectations about its efforts to contain the coronavirus and acknowledged that there would most likely be another wave of cases this fall.
Trump officials Peter Navarro also said that a comment by President Trump over the weekend about wanting to slow down virus testing had been "tongue in cheek."| Source: NY Times
In USA – one continuous forest fire
In states with recent increases, like Arizona, California, North Carolina and Texas, the number of confirmed cases has been rising almost continually since March. Michael Osterholm, a prominent epidemiologist, said Americans should not be thinking about new waves but rather about one continuous "forest fire."
June 21
Trump jokes about the "Kung Flu" virus at Tulsa rally
Trump's Tulsa rally, feared as a 'superspreader,' is lightly attended
President Trump, ignoring the health guidance of local officials in Tulsa, Okla., held his first campaign-style rally in several months Saturday night. Speaking to a sparse, mostly mask-free crowd in a 19,000-seat indoor arena that he had hoped to pack, Mr. Trump claimed he wanted to slow down testing of the virus that has killed 121,000 Americans. | Source: NY Times
Florida and South Carolina break new-cases records for the third straight day
For the third straight day, Florida and South Carolina broke their single-day records for new cases, while infection levels for Missouri and Nevada also reached new highs on Saturday.
And on Friday, the United States reported more than 30,000 new infections, its highest total since May 1, with cases rising in 19 states across the South, West and Midwest.
Florida reported 4,049 new cases on Saturday, breaking Friday's record (3,822) and Thursday's record (3,207). The state now has had 93,797 cases and 3,144 deaths.
South Carolina broke its record with 1,155 new cases; Nevada had 452 and Missouri had 375.
June 20
Death tolls in U.S. will rise over coming weeks
The Centers for Disease Control and Prevention said Thursday that the U.S. death toll could rise to as high as 145,000 by July 11. At least 117,000 have already died.
W.H.O. Warns of 'Dangerous Phase' of Pandemic as Outbreaks Widen
Beijing and Seoul have had a recent surge in coronavirus cases, and businesses are recoiling in America as infections sharply increase in Southern and Western states. | Source: NY Times
June 19
Tulsa worries about large-scale outbreak of coronavirus after Trump rally
A number of Tulsa residents and business owners, alarmed by the prospect of a large-scale outbreak of coronavirus if the Trump Rally proceeds, have sued the venue manager attempting to block the event unless it is held in accordance with social distancing guidelines from the Centers for Disease Control and Prevention. A Tulsa County judge on Tuesday denied the request for a temporary injunction, but the decision was appealed to the Oklahoma Supreme Court. | Source: Washington Post
Warren: Did government officials profit from Covid?
Sen. Elizabeth Warren (D-Mass.) is leading a group of Democratic lawmakers in an investigation of what they describe as "egregious" financial conflicts of interest in the Trump administration's coronavirus response, citing top officials' financial stake in companies involved with the all-important effort to find a COVID-19 vaccine. | Source: Rolling Stone
June 18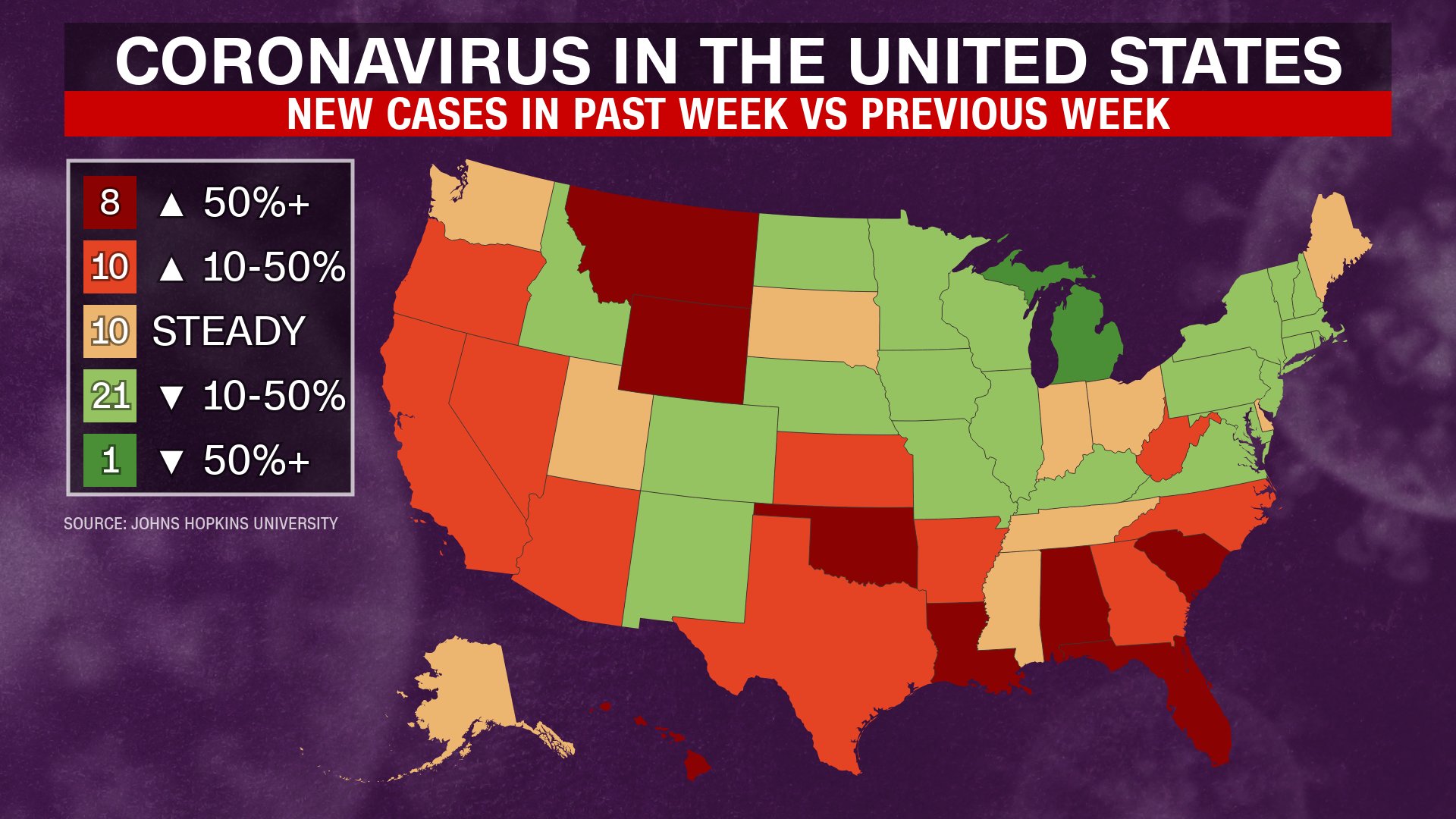 Florida set another new coronavirus case record Thursday with a jump of 3,207 new cases. The state is facing a spike of cases, reporting over 1,000 new cases in 15 of the 16 previous days. | Source: The Daily Beast
---
Vice President Mike Pence lied about Oklahoma's coronavirus cases to defend Trump's rally
" … On June 16, at least three other fact checks of Pence's comments were published. PolitiFact rated his claim "false" and thoroughly debunked his assertion…" | Source: PolitiFact; Media Matters for America
Dr. Fauci warns of baseball in October
"If you look at the kinds of things that could happen, there's no guarantee of anything. You would want to do it at a time when there isn't the overlap between influenza and the possibility of a fall second wave, " Fauci said. | Source: NPR
Op-Ed: Mike Pence is a case study in irresponsibility
Vice President Pence, who heads the White House task force on the coronavirus pandemic, has been a case study in irresponsibility … Pence (has) declared, "We are winning the fight against the invisible enemy" and took the media to task for worrying about a second wave. "Such panic is overblown."
The pandemic is still raging. Try as they might to spin a recovery story, Mr. Pence and Mr. Trump destroy their own credibility by ignoring reality. The American people know this is not "cause for celebration." | Source: Washington Post
Mission Accomplished: Trump believes virus is "fading away"
The Trump administration has largely stopped treating the coronavirus as a crisis, with the president saying in an interview Wednesday night that it was "fading away." The White House's task force now meets just twice a week. Experts like Drs. Anthony Fauci and Deborah Birx speak to the president less often. The country's designated "testing czar" has returned to his old job. | Source: NY Times
Reality Check for Colleges
"Colleges are deluding themselves," Michael J. Sorrell, the president of Paul Quinn College in Dallas, wrote in The Atlantic. Laurence Steinberg, a Temple University psychologist, wrote a Times Op-Ed arguing that the reopening plans were "so unrealistically optimistic that they border on delusional" | Sources: NY Times, The Atlantic
June 17
Florida, Texas and Arizona all set records for the most cases they have reported in a single day.
---
Higher-income individuals not spending since COVID
The wealthy aren't holding back because they don't have the money. By and large, they have lost fewer jobs and aren't the ones who are worried about making rent.
That's potentially crippling because consumer spending is a huge driver of economic activity. In fact, so much of the country's economy depends on shopping by the top income bracket, that the lack of spending by 25% of the wealthiest Americans made up fully two-thirds of the total decline in spending since January.
They have a lot of discretionary income and before the pandemic, were spending a significant chunk of that going to nice restaurants, the theater, or traveling and staying in nice hotels. Those are precisely the things that have been off limits since the coronavirus hit. | Source: NPR
Fauci would not attend Trump rally: "Of course not"
"No," Fauci responded when asked by the Daily Beast if he would personally make an appearance at the rally.
"I'm in a high-risk category. Personally, I would not. Of course not," Fauci, 79, said in an interview published Tuesday night. He added that in the case of Trump's rallies "outside is better than inside, no crowd is better than crowd" and "crowd is better than big crowd." It is unclear if Fauci had been asked to go or if he ever planned on attending.
Coronavirus Tests Costs in U.S. Unregulated
U.S. health care prices are unregulated, opaque and unpredictable. When Congress required insurers to cover Covid-19 testing, a few providers decided to take advantage. Source: NY Times
June 16
Pence: It's the testing, stupid
On a private call yesterday, Vice President Mike Pence encouraged governors to say that cases are growing nationwide because of an increase in testing. Public health experts say this is misleading.
June 15
FDA Pulls Emergency Covid-19-Use Approval for Hydroxychloroquine, Taken by Trump
The Food and Drug Administration has revoked its emergency-use authorization for two malaria drugs, chloroquine and hydroxychloroquine, for the treatment of the Covid-19 disease.
"It is no longer reasonable to believe" the two drugs "may be effective in treating Covid-19," said Denise M. Hinton, the FDA's chief scientist said in a Monday letter. Nor is it reasonable to believe, she added, that "known and potential benefits of these products outweigh their known and potential risks." | Source: The Wall Street Journal
New outbreak in China
Beijing has set about testing hundreds of thousands of people for coronavirus in an exhaustive effort to stamp out a new eruption of the disease in the Chinese capital. Chinese authorities mbilized almost 100,000 community workers to carry out tests on everyone who has worked in or visited the Xinfadi market in the southwest of Beijing.
Are female leaders better equipped to handle Covid?
I compiled death rates from the coronavirus for 21 countries around the world, 13 led by men and eight by women. The male-led countries suffered an average of 214 coronavirus-related deaths per million inhabitants. Those led by women lost only one-fifth as many, 36 per million.
If the United States had the coronavirus death rate of the average female-led country, 102,000 American lives would have been saved out of the 114,000 lost.
"Countries led by women do seem to be particularly successful in fighting the coronavirus," noted Anne W. Rimoin, an epidemiologist at U.C.L.A. "New Zealand, Denmark, Finland, Germany, Iceland, Norway have done so well perhaps due to the leadership and management styles attributed to their female leaders." | Source NY Times
June 14
Fauci: Normality is a year away
With coronavirus cases rising in states across the country, Anthony S. Fauci, the top U.S. infectious disease expert, warned waves of infection could come "back and forth" for months and said it could be about a year before things return to normal.
"I would hope to get to some degree of real normality within a year or so. But I don't think it's this winter or fall, we'll be seeing it for a bit more," Fauci told the British Telegraph newspaper in an interview published Sunday.
June 13
NY Times: Surge expected in U.S.
Thousands of Americans have been sickened by the virus in new outbreaks, particularly in the Sun Belt and the West. As of Friday, coronavirus cases were climbing in 22 states amid reopenings. Arizona, Texas and Florida are reporting their highest case numbers yet.
California and Washington have reopened in a more incremental way, but have still seen an uptick in cases. Outdoor dining in San Francisco, above, began on Friday. Here's where cases are rising the fastest.
June 12
Trump: Time for a rally … but don't sue us
The Trump campaign is telling people who sign up for its first rally since the pandemic began that they are effectively agreeing not to sue the campaign or the venue if they contract the coronavirus
Florida And S.C. Report New Spikes In Coronavirus Cases
A record high in South Carolina. A two-month high in Florida. Record hospitalizations in Texas. Several states that were among the first to reopen their economies are now reporting spikes in new coronavirus cases, driving an alarming trend that has propelled the U.S. to 2 million cases.
Florida reported nearly 1,700 new cases Thursday morning — "the biggest jump since March," as NPR member station WLRN reported. Hours after the state published that data, Gov. Ron DeSantis unveiled his plan to reopen schools in August, urging local governments to aim for "full capacity" when they resume classes. | Source: NPR
Stocks Fall Sharply
Stocks fell sharply yesterday, with the S&P 500 dropping 5.9 percent, its biggest decline in nearly three months. The decline seemed to reflect a growing recognition that the pandemic would weaken the economy for a long time. In recent days, multiple employers have announced new job cuts, including BP; the University of Denver; and the city of Peoria, Ill.
Study: Covid-Lockdown Could Make America's Gun Problem Worse
Stress and isolation combined with another feature of American life — easy access to firearms — could form a deadly brew.
Last week we released results of a new study — the largest ever on the connection between suicide and handgun ownership — in The New England Journal of Medicine revealing that gun owners were nearly four times as likely to die by suicide than people without guns, even when controlling for gender, age, race and neighborhood.
June 11
States that relaxed stay-at-home orders now reporting record-breaking hospitalizations
Covid-19 hospitalizations in at least nine states have been on the rise since Memorial Day, disproving the notion that spikes in cases are solely because of the continued increase in testing. Texas, for example — which was one of the first states to relax stay-at-home orders — reported record-breaking hospitalizations Monday and Tuesday. | Source: Washington Post
Bleak economic forecast
In their first economic projections this year, officials at the Federal Reserve said they expected the unemployment rate to end 2020 at 9.3 percent and to remain elevated for years. The Fed pledged to do "whatever we can" to support the recovery. "This is the biggest economic shock, in the U.S. and the world, really, in living memory," Jerome Powell, the Fed chair, said.
A call for more stimulus: Treasury Secretary Steven Mnuchin called for "another bipartisan legislation to put more money into the economy." The Trump administration and congressional Republicans have been sending mixed messages about more stimulus.
June 10
Fauci warns of "worst nightmare"
Some covid-19 patients taken off ventilators are taking days or even weeks to wake up
That question is baffling neurologists and rehabilitation physicians treating patients with severe covid-19 cases. A significant number of those who have spent long periods on ventilators are taking days or weeks — rather than hours — to awaken from medically induced comas. | Source: Washington Post
Outbreak in Arizona
Experts around the country and in Arizona are raising alarms about Arizona's COVID-19 situation because cases and hospitalizations have increased for the past two weeks.
"I would go so far as to say alarming," said Dr. William Hanage, an epidemiology professor at Harvard University's T.H. Chan School of Public Health.
Arizona's largest hospital system warned over the past week that its intensive care units are filling up, ventilator use was on the rise and capacity was reached for extracorporeal membrane oxygenation treatment. | Source: USA Today
More than half the states are failing to report likely coronavirus cases to the federal government
More than half the states are failing to report likely coronavirus cases to the federal government — sometimes excluding even those who tested positive for viral antibodies or had covid-19 listed on their death certificates. The failures have alarmed health experts, who note that probable deaths were reported in previous outbreaks such as the H1N1 flu in 2009.
June 9
Quarantines prevented hundreds of millions of cases, study finds
The coronavirus would have infected nearly one in five Americans, 60 million people, in the first few weeks of the outbreak without shutdowns or social distancing, according to a peer-reviewed study led by the University of California at Berkeley. The paper credited quarantine policies with preventing hundreds of millions of cases globally through early April, and a separate study estimated that shutdowns saved at least 3.1 million lives in Europe. | Source: Washington Post
June 7
W.H.O. Finally Endorses Masks to Prevent Coronavirus Transmission
The agency had been opposed to public use of masks, even after governments worldwide had recommended them.
Long after most nations urged their citizens to wear masks, and after months of hand-wringing about the quality of the evidence available, the World Health Organization on Friday endorsed the use of face masks by the public to reduce transmission of the coronavirus.
Since the beginning of the pandemic, surprisingly, the W.H.O. had refused to endorse masks. The announcement was long overdue, critics said, as masks are an easy and inexpensive preventive measure. Source: NY Times
June 6
A 'misclassification error' made the May unemployment rate look better than it is
Some took this as a sign that President Trump or one of his staffers may have tinkered with the data to make it look better, especially since most forecasters predicted the unemployment rate would be close to 20 percent in May, up from 14.7 percent in April. But economists and former BLS leaders from across the political spectrum strongly dismissed that idea.
June 5
Unemployment approaches 20 percent
The U.S. government is expected to report that the country's unemployment rate last month approached 20 percent, the highest level since the Great Depression.
Authors retract study showing hydroxychloroquine was dangerous
Today, three of the authors of the paper, "Hydroxychloroquine or chloroquine with or without a macrolide for treatment of COVID-19: a multinational registry analysis", have retracted their study. They were unable to complete an independent audit of the data underpinning their analysis. As a result, they have concluded that they "can no longer vouch for the veracity of the primary data sources." | Source: The Lancet
Dozens of covid-19 testing sites in vulnerable communities have been forced to close amid civil unrest
The closures add to fears that a national wave of protests inspired by the past week's police killing of George Floyd will spread the virus, which continues to kill roughly 1,000 Americans a day on average. | Source: Washington Post
June 4
More than 1.8 million Covid-19 cases have been reported in the U.S., with 34 states and jurisdictions reporting more than 10,000 cases. Continue to help slow the spread by staying home when sick and washing your hands often
Fencing installed around White House
General Mattis excoriates the president for setting Americans against one another
"Donald Trump is the first president in my lifetime who does not try to unite the American people—does not even pretend to try. Instead, he tries to divide us," Mattis writes. "We are witnessing the consequences of three years of this deliberate effort. We are witnessing the consequences of three years without mature leadership. We can unite without him, drawing on the strengths inherent in our civil society. This will not be easy, as the past few days have shown, but we owe it to our fellow citizens; to past generations that bled to defend our promise; and to our children.
June 3
The coronavirus pandemic has killed more than 379,500 people and sickened 6.3 million. | Source: NY Times
---
Covid cases expected to rise after protests
Epidemiologists said the demonstrations would almost certainly lead to more cases. And a Times review detailed a series of failures at the C.D.C
Reloacting Republican National Convention
President Trump's speech at the Republican National Convention will be moved out of Charlotte, N.C., party officials said Tuesday night, after indications that the entire event might be relocated because of a high-stakes feud with Democratic officials in North Carolina.
June 2
Authoritarians in Brazil, Russia, Britain and U.S. failing on Covid-19
The four large countries where coronavirus cases have been increasing fastest — Brazil, the U.S., Russia and Britain — have something in common: They are all run by populist male leaders who cast themselves as anti-elite and anti-establishment.
"Very often they rail against intellectuals and experts of nearly all types," Steven Levitsky, a Harvard political scientist … The leaders, he said, "claim to have a kind of common-sense wisdom that the experts lack. This doesn't work very well versus Covid-19." | Source: NY Times
Trump holds bible and warns of ordering the military into cities
In Washington, police officers used tear gas and flash grenades to clear a path through a peaceful protest so President Trump could visit a nearby Episcopal church, St. John's, where he posed for photos holding a Bible. An Episcopal bishop in Washington said she was "outraged" that he used the church "as a backdrop for a message antithetical to the teachings of Jesus." Trump also warned he would order the military into cities if local officials could not control their streets. | Source NY Times
June 1
America is "without a President"
Trump lacks the intellectual ability to process what is happening and why. He lacks the mental composition and fortitude to make smart decisions in a crisis. He lacks the moral authority to speak to the nation at a moment of crisis. America is in chaos and without a President.

– Steven Schmidt
Officials warn that protests could set off second wave of coronavirus infections
U.S. public health officials are warning that the massive countrywide demonstrations against police brutality, which show no sign of abating, could be followed by a sudden increase in novel coronavirus cases.
"We still have pockets of spread in communities that aren't under good control," former Food and Drug Administration commissioner Scott Gottlieb said in a Sunday interview on CBS News's "Face the Nation." Minnesota, the epicenter of the protests, has had an uptick in new cases and hospitalizations in recent days, he said. | Source CBS News
Poll: First, Control the Virus
Nearly 6 in 10 Americans say the coronavirus outbreak has exacted a severe economic toll on their communities, but a majority of a divided country still says controlling the virus's spread is more important than trying to restart the economy, according to a Washington Post-ABC News poll.
May 31
The reopening of America was always going to be fraught, with competing fears of new virus outbreaks and economic meltdown. Now cities across the nation, from New York to Chicago and Los Angeles, are reeling from unrest that could worsen both. Violence erupted in dozens of cities following the death of George Floyd, a black Minneapolis man who died after a white police officer pressed a knee into his neck for more than eight minutes. Some demonstrators broke off to rampage through shopping districts, including Rodeo Drive in Beverly Hills and State Street in Chicago, and set fire to police cars and municipal buildings. The chaos, amid otherwise peaceful protests, struck as the economy struggles to emerge from its coronavirus-enforced hibernation.
After the Covid-19 deaths of more than 104,000 Americans, unprecedented government intervention and massive disruptions to business and everyday life, the scenes of unrest across the country were a bleak contrast to the recent optimism of the markets. The S&P 500 registered its second straight monthly advance on Friday. | Source: Bloomberg
May 30
U.S. should reconsider decision to end relationship with WHO, European leaders say
European Union leaders on Saturday urged President Trump to reconsider his decision to end the United States' relationship with the World Health Organization, saying international cooperation was essential to succeed in controlling the coronavirus pandemic.
"The WHO needs to continue being able to lead the international response to pandemics, current and future," European Commission President Ursula von der Leyen and Vice President Josep Borrell said in a statement. | Source: Washington Post
Researchers say death toll hit 100,000 three weeks ago
Coronavirus deaths in the United States probably surpassed 100,000 three weeks before the official death toll reached that milestone, according to an analysis by The Washington Post and researchers from the Yale School of Public Health.
May 29
Poll: Republicans object to wearing masks
A recent Quinnipiac University poll shows overwhelming support among Democrats for mask wearing, but a little more than one-third of Republicans feel the same.
Florida Attorney Jeff Childers: "It's not an objection to wearing a mask. It's an objection to being coerced to wear a mask."| Source: NPR
Trump retweets a video saying 'the only good Democrat is a dead Democrat'
A video by an account called "Cowboys for Trump" in which the speaker begins by saying, "The only good Democrat is a dead Democrat." The speaker quickly qualifies that he's not speaking literally.
At precisely midnight, the president felt this was the kind of message that people needed to see. "Thank you Cowboys. See you in New Mexico!" he said in a retweet.
May 28
Trump campaign is creating an alternate reality on Covid-19
Unmasking the ignorant: Biden calls Trump a "fool"
Trump continues to mock those who wear them, including his Democratic rival Joe Biden. Trump dismissed a mask-wearing reporter as being "politically correct" on Tuesday. At the same time, Biden called Trump a "fool" for mocking their use.
In Trump's America: Death and more death
The United States has had 28 percent of global deaths despite having only 4 percent of the world's population.
President Trump has spent his life in thrall to numbers — his wealth, his ratings, his polls. Even during the deadly coronavirus pandemic, he has remained fixated on certain metrics — peppering aides about infection statistics, favoring rosy projections and obsessing over the gyrating stock market.
But as the nation reached a bleak milestone this week — 100,000 Americans dead from the novel coronavirus — Trump has been uncharacteristically silent.

Ashley Parker | Washington Post 5/28/2020

New Executive Order aimed at Twitter for flagging Trump lies
May 27
100,000 U.S. Deaths
The U.S. death toll from COVID-19 has reached a somber milestone: as of Wednesday afternoon, the highly infectious viral disease has taken more than 100,000 lives nationwide. |Source: NPR
France bans drug Trump claims he's taking
France has banned the use of the controversial anti-malarial drug hydroxychloroquine to treat people with COVID-19, the diseased caused by the new coronavirus. The move follows the publication of initial findings from a large-scale study that found the drug offered no benefit to patients, and could in fact be harmful.
The Lancet medical journal reported on May 22 that the observational study on nearly 100,000 patients from multiple countries found a higher mortality rate and an increased frequency of irregular heartbeats in patients who were given hydroxychloroquine.
Trump defends himself on Twitter
"The Radical Left Lamestream Media, together with their partner, the Do Nothing Democrats, are trying to spread a new narrative that President Trump was slow in reacting to Covid 19," Trump tweeted. "Wrong, I was very fast, even doing the Ban on China long before anybody thought necessary!"
---
May 26
UK buys 16 million tabs of Hydroxychloroquine
Meatpacker industry hiding data from workers
Dozens of meatpacking plants are reopening, even as the extent of the viral outbreaks at many remains unknown. Meatpacking companies and local officials in some places have chosen to withhold the data, partly to avoid bad publicity. "At this point, we are not doing anything to cast them in a bad light," a county health official in Colorado wrote in an email, referring to a Cargill plant.
Trump issued an executive order last month designating meat plants "critical infrastructure" that must stay open. The order did not address issues like testing, leading many companies to reopen plants without fully assessing whether employees had contracted the virus. | Source: NY Times
Death toll mounts in U.S.
Sometime in the next few days, the official coronavirus death count will likely exceed 100,000. The true count is even higher — probably closer to 130,000. This larger number includes people who had the virus but weren't diagnosed, as well as those who died for indirect reasons, such as delaying medical treatment for other illnesses.
Either way, the toll is greater than the combined death count from every war that the U.S. has fought in the past 60 years: Vietnam, Iraq, Iraq again, Afghanistan and elsewhere. | Source: NY Times
May 25
90 days ago: 0 deaths
80 days ago: 12 deaths
70 days ago: 65 deaths
60 days ago: 938 deaths
50 days ago: 8,488 deaths
40 days ago: 26,033 deaths
30 days ago: 51,017 deaths
20 days ago: 67,682 deaths
10 days ago: 85,886 deaths
Memorial Day 2020: 97,711 deaths
---
"I again remind everyone that the coronavirus is not yet contained. It is up to every individual to protect themselves and their community."
– Food and Drug Administration Commissioner Stephen Hahn
Trump threatens funds for states easing voting in pandemic
"Michigan sends absentee ballots to 7.7 million people ahead of Primaries and the General Election," Trump tweeted Wednesday morning. That brought strong criticism from Democrats in Michigan and elsewhere, pointing out that the state was sending applications, not actual ballots, an error the president corrected in a subsequent tweet six hours later. He stuck with the rest of his tweet: "This was done illegally and without authorization by a rogue Secretary of State. I will ask to hold up funding to Michigan if they want to go down this Voter Fraud path!" | Source: PBS
May 24
Behind Trump's demand to reopen churches: Slipping poll numbers and alarm inside his campaign
The anxiety over Trump's standing with the Christian right surfaced after a pair of surveys by reputable outfits earlier this month found waning confidence in the administration's coronavirus response among key religious groups, with a staggering decline in the president's favorability among white evangelicals and white Catholics. | Source: Politico
May 23
Trump heads to golf course as death toll nears 100,000
Donald Trump teed up fresh controversy on Saturday, by leaving the White House for his golf course in Virginia. As of Saturday morning, more than 1.6m cases of Covid-19 had been confirmed in the US, with the death toll approaching 100,000.| Source: The Guardian
More than half are Covid-related Tweets are bots
Carnegie Mellon University researchers analyzed over 200 million tweets discussing COVID-19 and related issues since January and found that roughly half the accounts — including 62% of the 1,000 most influential retweeters — appeared to be bots, they said in a report published this week. | Source: Business Insider
Trump unhappy with his Fox News coverage
"Many will disagree, but Fox News is doing nothing to help Republicans, and me, get re-elected on November 3rd,"
– Source: Trump said in a series of tweets 5/23.
Opinion: Conspiracy theories growing and more dangerous than ever
"It doesn't much matter if someone thinks that UFOs landed at Roswell, N.M., or that Elvis is still alive — but it matters greatly if someone thinks that the coronavirus isn't real or that a vaccine may be more dangerous than the disease. Such beliefs, if they become widespread, pose a danger to public health. Indeed, anti-vaccine activists are already a menace." – Max Boot | Washington Post
Opinion: Trump ordering churches to open is pandering to Religious Right
Syndicated columnist Mark Shields and New York Times columnist David Brooks join Judy Woodruff to discuss Trump's call to reopen houses of worship despite the pandemic (watch below) | Source: PBS
May 22
Flags ordered at half-staff as death toll approaches 100,000
"Our nation mourns for every life lost to the coronavirus pandemic, and we share in the suffering of all those who endured pain and illness from the outbreak," read the proclamation that was signed by Mr. Trump. He ordered American flags to be flown at half-staff through Sunday.
The death toll in the United States is expected to pass the grim milestone of 100,000 in the coming days.
Airline Travel industry operating at 10%
Airline travel remains at only about 10 percent of normal levels, despite few restrictions on flying. "Even when everything is open, our economy won't recover until people feel safe resuming their normal lives," they write.
May 21
Trump "not welcomed" in Michigan
Michigan Attorney General Dana Nessel (D) said President Trump's decision not to wear a mask at a Ford plant in her state Thursday shows he is a "petulant child who refuses to follow the rules."
"The president is a petulant child who refuses to follow the rules, and I have to say, this is no joke," Nessel said during an on-air appearance on CNN on Thursday. | Source: The Hill
Asian American doctors and nurses are fighting racism and the coronavirus
Across the country, Asian American health-care workers have reported a rise in bigoted incidents. The racial hostility has left Asian Americans, who represent 6 percent of the U.S. population but 18 percent of the country's physicians and 10 percent of its nurse practitioners, in a painful position on the front lines of the response to the coronavirus pandemic …
Asian Americans have experienced a sharp increase in racist verbal abuse and physical attacks during the pandemic, with the FBI warning of a potential surge in hate crimes …
Some academic experts on race say President Trump's rhetoric around the virus and China has contributed to the rise in racial harassment. For weeks, Trump deliberately referred to the coronavirus as the "Chinese virus"| Source: Washington Post
Dismal economic projections
"CBO estimates that real (inflation-adjusted) gross domestic product (GDP) will contract by 11 percent in the second quarter of this year, which is equivalent to a decline of 38 percent at an annual rate. In the second quarter, the number of people employed will be almost 26 million lower than the number in the fourth quarter of 2019." Source: The Congressional Budget Office of the United States
May 20
Trump continue to push hydroxychloroquine
"I would encourage any person over the age of 65 or with an underlying medical condition to talk to their own physician about taking hydroxychloroquine and I'm relieved President Trump is taking it."
– Kansas Republican Rep. Roger Marshall
U.S. confirms over 1.5 million cases
U.S. Economic Stimulus does not appear to be working
Much of the rest of the world — including Australia, Britain, Canada, France, Germany and South Korea — has followed one strategy on coronavirus stimulus. Governments have temporarily paid the salaries of workers in order to prevent millions of layoffs. The United States has taken a different path. It created a complicated mix of different stimulus policies, including loans to businesses and checks for families. This approach doesn't appear to be working: The U.S. has had a sharper rise in unemployment than other countries. Many jobless Americans have also lost their health insurance — in the midst of a pandemic. | Source: NY Times
May 19
Death toll in U.S. nears 90,000
More than 1.5 million confirmed coronavirus cases have been recorded in the United States, where the death toll is nearing 90,000. Globally, there have been 4.8 million confirmed infections and 317,000 deaths.
Pelosi says Trump is high risk because he is "morbidly obese"
House Speaker Nancy Pelosi (D-Calif.) criticized Trump's decision to take "something that has not been approved by the scientists," saying that he needs to be especially careful given his age (73) and weight group, which she categorized as "morbidly obese."
May 18
Trump says that he has been taking hydroxychloroquine
Donald Trump said Monday that he has been taking hydroxychloroquine, an unproven treatment for COVID-19 that he has vigorously promoted.
"A lot of good things have come out about the hydroxy. A lot of good things have come out. You'd be surprised at how many people are taking it, especially the frontline workers — before you catch it. I happen to be taking it, I happen to be taking it… I'm taking it — hydroxychloroquine, right now." | Source: NBC News
U.S. Deaths will top 100,000
Dr. Robert Redfield, director of the CDC, says that forecasting models now predict that total US deaths from COVID-19 will surpass 100,000 by June 1.
---
$500 billion meant for coronavirus relief has lent barely any money so far
A $500 billion Treasury Department fund created by the Cares Act in March to help stabilize the economy has lent barely any money, according to an initial report issued by a new Congressional Oversight Commission … Congressional Democrats including Sen. Elizabeth Warren (D-Mass.), who headed a similar oversight commission after the 2008 financial crisis bailout, have criticized the money as a "slush fund" for corporations. | Source: Washington Post
Where are the tests?
By June 1, more than 100,000 Americans will have died from COVID-19. Compare that to South Korea's 262 and Australia's 98 current fatalities, where unlike Trump, leaders quickly implemented widespread testing and tracing programs. Public health officials isolated infected individuals, traced their contacts with others, followed the potential spread of the virus, and targeted the response.
As Trump failed to implement an effective nationwide testing program, he lied about it. Now he's shifting the burden to individual states while urging governors to "reopen" in violation of his own testing and tracing standards. Even Trump's medical experts agree that such a blind push to resume social and economic activity is a fool's errand [ . . . ] Source: Bill Moyers
May 17
Trump has brought U.S. to "unparalleded humilation"
Trump's Health Secretary: No virus 'spikes' after reopenings
Authorities are not seeing spikes in coronavirus cases in places that are reopening but are seeking increases in some areas that remain closed, U.S. health secretary Alex Azar said on Sunday.
"We are seeing that in places that are opening; we're not seeing this spike in cases," Azar said on CNN's "State of the Union" program. "We still see spikes in some areas that are in fact close to very localized situations." Source: Reuters
Health expert: We are only at the beginning of this health crisis
"The second inning of a nine inning situation," according to infectious disease authority Dr. Michael Osterholm. He says a small percentage of the U.S. population is infected, and the virus will not slow down until about 60-70% of the public is infected (creating herd immunity) or an effective vaccine is developed. | Read More
Armed protesters waiving Trump signs of Michigan barber shop
Armed members of the Michigan Home Guard stood outside Karl Manke's barbershop, ready to blockade the door if police arrived. They were determined to help Manke, 77, reopen his shop Monday, in defiance of state orders, and dozens joined them, wearing Trump sweatshirts and Trump cowboy hats and waving Trump flags.
Governor Whitmer said in an interview Tuesday that she worries Republican state lawmakers, who have said she does not have the authority to continue her coronavirus executive order, are pushing people to violate it.
Highest one-day new cases total in Texas
Texas reported 1,801 new cases of the coronavirus on Saturday, its highest one-day total since the pandemic began
Obama says U.S. leaders have botched pandemic response
Former president Barack Obama used a pair of virtual college commencement addresses Saturday to criticize the nation's leaders for mishandling the response to the coronavirus pandemic. "A lot of them aren't even pretending to be in charge," Obama said, without referring to President Trump by name.
May 16
White House ordered CDC to revise reopening guidelines
The White House called the draft guidance "too prescriptive" and said it amounted to "counter messaging" as the administration pushes governors to come up with their own reopening plans. | Source: Politico
72 people in Wisconsin test positive after attending 'large gathering' as state sees stay at home protests
Seventy-two individuals who tested positive for Covid-19 in Wisconsin recently attended a "large-gathering" before their diagnosis, according to a report.
According to The Progressive, the state's Department of Health Services (DHS) confirmed that they had gathered tracing data on a number of people who had contracted the virus.
Wisconsin Capitol Police said about 1,500 people attended the gathering and there were no arrests and no citations issued. Only one-third of protesters were said to be wearing masks at the event. | Source: The Independent
New Study Finds Hydroxychloroquine Does Not Help COVID-19, Can Cause Heart Attacks
The largest study to date on the use of hydroxychloroquine against the coronavirus has confirmed earlier research that the anti-malarial drug could cause serious heart problems and is not an effective treatment for COVID-19. Trump has repeatedly touted the drug. The latest study — published Monday in the Journal of the American Medical Association — looked at nearly 1,500 patients in New York and found that those on hydroxychloroquine had a similar death rate to those who did not take it, but were more than twice as likely to suffer cardiac arrest. Dr. William Schaffner, an infectious disease expert and adviser to the Centers for Disease Control and Prevention, said, "The nail has virtually been put in the coffin of hydroxychloroquine." |Source: Democracy Now
Trump sets goal of hundreds of millions of vaccine doses by January. Scientists doubt it
President Trump formally unveiled an initiative Friday afternoon aimed at making hundreds of millions of doses of a coronavirus vaccine broadly available by year's end — a goal that many scientists say is unrealistic and could even backfire by shortchanging safety and undermining faith in vaccines more broadly | Source: Washington Post
Leading medical journal blasts Trump's covid response – says he should be "replaced"
Lancet – one of the world's oldest and best-known medical journals Friday slammed President Trump's "inconsistent and incoherent national response" to the novel coronavirus pandemic and accused the administration of relegating the Centers for Disease Control and Prevention to a "nominal" role.
The unsigned editorial from the Lancet concluded that Trump should be replaced.
May 15
Reopening: A Chronicle of Needless Deaths Foretold
You can't put out a house fire in one room, let it keep burning in others, and expect to be safe. One week after Georgia reopened its businesses, over 60,000 people each day traveled from out of state to patronize restaurants, hair salons, bowling alleys, and movie theaters, all returning home from these close-quarters visits, some likely bringing Covid-19 with them | Source: The Nation
Bright calls Trump Response a Failure
Dr. Rick Bright, a government whistle-blower, told Congress that the Trump administration's failure to develop a "coordinated plan" for the coronavirus has cost American lives.
DeVos Funnels Coronavirus Relief Funds to Favored Private and Religious Schools
Trump's Education Secretary Betsy DeVos, using discretion written into the coronavirus stabilization law, is using millions of dollars to pursue long-sought policy goals that Congress has blocked. | Source: NY Times
May 14
Vaccine expert testifies that federal officials 'did not respond' to his alerts about mask shortages
Rick Bright, a former top U.S. vaccine official testifying before Congress on Thursday, said the Department of Heath and Human Services "did not respond" when he raised concerns about shortages of medical materials such as N95 masks and testing supplies, prompting Bright to reach out to a White House adviser. Trump dismisses Bright as a "really unhappy disgruntled person."| Source: Washington Post
Private jet company founded by Trump donor gets $27 million bailout
A private jet company founded by a donor to President Donald Trump received nearly $27 million in government funding under a program run by the Treasury Department, according to government filings. Source: NBC News
Trump's preferred test missed a large number of positive results
The speedy Abbott test, which is supposed to determine in five to 13 minutes whether a person has the virus, missed a third of the positive samples found by the diagnostic company Cepheid when both tests used nasopharyngeal swabs, said the study done by a group from New York University. It missed more than 48 percent when both firms' tests used dry nasal swabs. The former penetrates deeply into the nasal passages, while the latter is less invasive. Trump had hailed the test as "a whole new ballgame." | Source: Washington Post
Nebraska's Republican governor won't reveal virus statistics
Gov. Pete Ricketts (R) announced last week they would no longer share figures. Residents in those communities want to know why, saying the data is crucial to understand how the virus is spreading and what precautions, if any, are being taken at the plants. More than a thousand have been infected at meatpacking plants, but state officials won't say which ones. Workers and families say they have a right to know.| Source: Washington Post
Prices at the grocery store continue to get higher
Costs for products across the board — meats, eggs, fruits and veggies, cereals and bakery items — rose in April. Overall, consumers paid 2.6 percent more in April for groceries, the largest one-month increase since February 1974.
May 13
Trump scolds Fauci
President Donald Trump on Wednesday reprimanded Dr. Anthony Fauci, one of his top health advisers, after the nation's foremost infectious-diseases expert urged caution when it comes to reopening schools amid the coronavirus pandemic.
"He wants to play all sides of the equation," Trump told reporters at the White House.
Trump chastised Fauci's cautious approach on Wednesday during a meeting with governors at the White House, urging schools to open back up while ignoring Fauci's warning.
"I was surprised by his answer, actually, because, you know, it's just, to me, it's not an acceptable answer, especially when it comes to schools," Trump said. | Source: Politico
Cheney backs Fauci as conservatives call for his removal
Rep. Liz Cheney's support of the nation's top infectious disease expert contrasted with the views of other conservatives, most recently Sen. Rand Paul (R-Ky.) and several big-name Fox News personalities, who publicly questioned Fauci's credibility Tuesday following his testimony at the hearing on the U.S. coronavirus response. | Source: Washington Post
Masks are for liberals
"Wearing a mask is for smug liberals. Refusing to is for reckless Republicans." That was the headline on a recent article in Politico by Ryan Lizza and Daniel Lippman that noted that "in a deeply polarized America, almost anything can be politicized." | Source: Politico
Obama told to keep his mouth shut
Sen. Mitch McConnell said that President Obama "should have kept his mouth shut" instead of criticizing the Trump administration's coronavirus response in a call with former staffers. | Source NY Times
May 12
Dr. Fauci warns of "needless suffering and death"
Dr. Anthony Fauci told The NY Times that he plans to warn the Senate today of "needless suffering and death" if the country reopens prematurely.
"The major message that I wish to convey to the Senate HLP committee tomorrow is the danger of trying to open the country prematurely," Fauci wrote. "If we skip over the checkpoints in the guidelines to 'Open America Again,' then we risk the danger of multiple outbreaks throughout the country. This will not only result in needless suffering and death, but would actually set us back on our quest to return to normal."
May 11
Trump walks out of press conference after being challenged
Ignorance showing "full-scale"
"I don't think they grasp the impact of what they do and what they say on the American public. Even though his popularity is dropping and his ignorance is showing full-scale, I still think he's the president and he and the vice president are a role model and really, really terrible role models in this horrendous pandemic, unfortunately."
– Dr. Irwin Redlener, who leads Columbia University's National Center for Disaster Preparedness
---
Most White House officials will be asked to wear masks, but directive will not apply to Trump
Most White House officials will be asked to wear masks or face coverings in public spaces on complex grounds, a move to prevent the novel coronavirus from spreading further inside the presidential compound, according to three administration officials with knowledge of a directive to be issued Monday.
The request does not apply to offices, however, and President Trump is still unlikely to wear a mask or face covering, aides say.
---
Trump cut a coronavirus researcher's funding after unsubstantiated claims that COVID-19 is either manmade or leaked from a Chinese lab.
Pulitzer prize-winning journalist Chris Hedges predicts economic Depression and growing Authoritarianism
"I don't see how we're going to avoid a real serious Depression. Huge numbers of people are going to die unnecessarily. As things deteriorate, the desire for an authoritarian solution will grow. " – Source THE TRUTH REPORT with Chris Hedges
---
White House has become a 'scary' place to work
There are mounting fears of a coronavirus outbreak in the White House after two confirmed infections within the president's orbit. "It is scary to go to work," economic adviser Kevin Hassett admitted Sunday. But, he added: "It's the time when people have to step up and serve their country."
Anthony S. Fauci, director of the National Institute of Allergy and Infectious Diseases, said he plans to wear a mask at all times in public. | Source: Washington Post
---
May 10
Please remove your masks
---
Obama blasts Trump for "chaotic" response
President Barack Obama told ex-members of his administration that President Donald Trump's response to the coronavirus has been an "absolute chaotic disaster." Obama also claimed the "rule of law is at risk" after the Department of Justice dropped charges against former White House national security adviser Michael Flynn.
"This election that's coming up on every level is so important because what we're going to be battling is not just a particular individual or a political party. What we're fighting against is these long-term trends in which being selfish, being tribal, being divided, and seeing others as an enemy — that has become a stronger impulse in American life," Obama said.
"And by the way, we're seeing that internationally as well. It's part of the reason why the response to this global crisis has been so anemic and spotty. It would have been bad even with the best of governments. It has been an absolute chaotic disaster when that mindset — of 'what's in it for me' and 'to heck with everybody else' — when that mindset is operationalized in our government."
Latest far-right tactic: Threatening people who report coronavirus lockdown violations
Public naming and threats are among the latest tactics being employed by far-right, neo-Nazi and white nationalist groups seeking to exploit the pandemic, according to organizations that track their activities.
White supremacists from "accelerationist" groups — which seek to weaken the political system that they believe has been diluted by multiculturalism — have sought to weaponize the deadly virus, calling on members to engage in direct attacks in order to expedite the collapse of society, said Joanna Mendelson, a national expert on extremism at the Anti-Defamation League. | Source: Los Angeles Times
Coronavirus flares as states and countries ease social distancing guidelines
The controversy over when, and how much, to open up has taken on sharp political overtones, with protests and occasional violence against those trying to keep the rules in place.
Robert Redfield, director of the Centers for Disease Control and Prevention, said in a statement that a report by the Associated Press alleging the White House had held back restrictive recommendations from experts on how to safely reopen hinged on a premature "draft" that "had not been vetted through the interagency process."
Fauci, other top health officials will quarantine after coronavirus exposure
Three of the country's highest ranking health officials are self-quarantining after two White House aides tested positive for the novel coronavirus, raising questions about how the White House is responding to the challenge of maintaining a safe work environment for Trump, Pence and their staff.
Government turned down an offer to manufacture millions of N95 masks in America
Weeks before the crisis sent the government scrambling, Texas manufacturer Prestige Ameritech offered to restart four mothballed production lines. Federal officials did not take the company up on it.
Michael Bowen's medical supply company, Prestige Ameritech, could ramp up production to make an additional 1.7 million N95 masks a week.
In the end, the government did not take Bowen up on his offer. Even today, production lines that could be making more than 7 million masks a month sit dormant.
Bowen's overture was described briefly in an 89-page whistleblower complaint filed this week by Rick Bright, former director of the Biomedical Advanced Research and Development Authority. Bright alleges he was retaliated against.
Source: Washington Post
The U.S. just lost 20 million jobs.
The unemployment rate soared to 14.7 percent, hitting nearly every sector of the labor market. That means barely more than half the adult population of the U.S. now has a job
May 9
Death Toll in U.S. 77, 179
10 wks ago: 0 deaths
4 wks ago: 18,758 deaths
Right now: 77,179 deaths
Far-Right media, fringe groups claim death tolls are being inflated to take down Trump
Since the outset of the crisis, elements of the right have sought to bolster the president's political standing and justify reopening the economy by questioning the death toll. Climate-change skeptics have employed techniques perfected in the fight over global warming to raise doubts about the deadliness of the virus. Others, including Mr. Trump's media allies as well as some in the anti-vaccine movement, have repurposed fringe theories about "deep state" bureaucrats undermining the president to argue that the official numbers should not be trusted. (These include) followers of Qanon, who subscribe to a web of vague, baseless theories that a secret cabal in the government is trying to take down the president. | Source: NY Times
May 8
Trump Says Coronavirus Will 'Go Away Without a Vaccine'. His Own Task Force Says It Won't.
President Donald Trump said Friday that he believed the coronavirus pandemic would "go away without a vaccine," contradicting countless warnings from the medical community and his own White House task force. "I feel about vaccines like I feel about tests," Trump told reporters at the White House on Friday. "This is going to go away without a vaccine, it's gonna go away, and we're not going to see it again, hopefully, after a period of time." – Source: The Daily Beast
Nebraska Ends Reporting on Meat Plant COVID-19 Cases
In Nebraska, local health officials have been banned from reporting on COVID-19 data from meat processing plants. Republican Governor Pete Ricketts said Wednesday that the state will no longer release the numbers, arguing it's a matter of worker privacy. Meat processing plants are home to some of the largest coronavirus hot spots in the country, with thousands of confirmed cases and at least 20 deaths tied to meat plants. | Source: Democracy Now
Watchdog office says 'reasonable grounds' to believe ouster of vaccine official was retaliatory
The Office of Special Counsel has determined there are "reasonable grounds" to believe a former top vaccine official was removed from his post last month for retaliatory reasons and plans to recommend the Department of Health and Human Services reinstate him while it investigates, the official's lawyers said Friday.
Rick Bright filed a whistleblower complaint this week that alleged he was reassigned because he resisted pressure from the department's political leadership to make "potentially harmful drugs widely available," including chloroquine and hydroxychloroquine. President Trump has repeatedly pushed both as possible coronavirus cures.| Source: Washington Post
Member of Pence's staff tests positive for coronavirus
The TSA Hoarded 1.3 Million N95 Masks Even Though Airports Are Empty
TSA officials stockpiled a huge shipment of N95 masks they knew they didn't need even after two agency officials asked to donate them. Airport traffic fell 95 percent, and the masks have sat unused as hospitals searched desperately for them. | Source: ProPublica
Top Republican fundraiser and Trump ally named postmaster general, giving president new influence over Postal Service
A top donor to President Trump and the Republican National Committee will be named the new head of the Postal Service, putting a top ally of the president in charge of an agency where Trump has long pressed for major changes in how it handles its business.
The action will install a stalwart Trump ally to lead the Postal Service, which he has railed against for years.
In part because of the coronavirus pandemic, the Postal Service is projecting a $13 billion revenue shortfall by the end of the fiscal year in September.| Source: Washington Post
May 7
Trump administration shelves CDC guide to reopening country
A set of detailed documents created by the CDC – the nation's top disease investigators meant to give step-by-step advice to local leaders deciding when and how to reopen public places such as mass transit, day care centers and restaurants during the still-raging pandemic has been shelved by the Trump administration.
It was supposed to be published last Friday, but agency scientists were told the guidance "would never see the light of day," according to a CDC official.
– Source: Associated Press
Trump vows complete end of Obamacare law despite pandemic
The administration's legal position seeks to end all of the law's provisions, including guaranteed coverage for preexisting conditions. "Obamacare, we run it really well," Trump said. "But running it great, it's still lousy health care." | Source: Washington Post
Trump snaps at nurse who says PPE "sporadic"
not being contained?"
Flashback March 6th: "Do you think it's
73, 431 dead "Warriors" in U.S.
Trump: "I call these people (Covid Task Force) 'warriors'. I actually now call the nation 'warriors'"
---
Trump Reverses on Disbanding Coronavirus Task Force after Learning How 'Popular' It Is
Trump announced he would not disband the White House coronavirus task force, following confirmation on Tuesday that his administration was considering the option.
"I thought we could wind it down sooner," Trump told reporters. "But I had no idea how popular the task force is until actually yesterday when I started talking about winding down. | Source: The National Review
May 6
Trump intends to defund World Health Organization
Trump said the United States had "foolishly" been funding the World Health Organization, which "missed every single call." Two weeks ago, Trump announced his administration would temporarily halt U.S. funding for the WHO, pending a review of its actions related to the novel coronavirus outbreak. – Source: Washington Post
Trump: Testing "makes us look bad"
"If we did very little testing, [America] wouldn't have the most cases," Trump said Wednesday. "So, in a way, by doing all of this testing, we make ourselves look bad… I will tell you, you look at some cases, some people think they're doing it for politics," Trump said on Fox News Channel. "Here we go again. But they think they're doing it because it'll hurt me, the longer it takes to — hurt me in the election, the longer it takes to open up."| Source NPR
Priority #1: Open country for business
"Will some people be affected badly? Yes. But we have to get our country open and we have to get it open soon." – Trump 5/5/2020
Trump is disbanding his coronavirus task force.
Vice President Mike Pence said the decision was a "reflection of the tremendous progress we've made as a country" — despite growing evidence that the outbreak is still raging.
The task force was a key part of President Trump's response: He often shared the stage with its medical experts, Dr. Deborah Birx and Dr. Anthony Fauci, during televised briefings. Noah Weiland, who covers health care for The Times, commented "If the task force dissolves, people like Dr. Fauci may have a less organized role at the White House."
– Source: NY Times
May 5
Virus Whistle-Blower Says Trump Administration Steered Contracts to Cronies
Rick Bright – a federal scientist who says he was ousted from his job amid a dispute over an unproven coronavirus treatment pushed by President Trump said Tuesday that top administration officials repeatedly pressured him to steer millions of dollars in contracts to the clients of a well-connected consultant. – Source: NY Times
Trump says deaths will rise "rapidly"
Trump said that his forecast for the number of Americans who will die from the disease has increased.
"I used to say 65,000 and now I'm saying 80 or 90, and it goes up, it goes up rapidly," Trump said
Trump tours factory without wearing a mask
Donald Trump spent Tuesday touring a Honeywell plant manufacturing medical face masks in Phoenix, Arizona, while declining to wear one himself as the Guns N' Roses cover of the James Bond theme "Live and Let Die" blared over the Tannoy, an absolutely extraordinary spectacle. | Source: Yahoo News
"It's May 5th, and President Trump still doesn't have an adequate national testing strategy." – Senator Chuck Schumer
Trump lashes out in early morning tweets
In fact, at nearly 1 a.m. (eastern) this morning, Trump published a quartet of furious tweets lashing out at the Lincoln Project's leaders as "losers." He took particular aim at George Conway, who's married to White House advisor Kellyanne Conway, writing, "I don't know what Kellyanne did to her deranged loser of a husband, Moonface, but it must have been really bad."
---
Trump is "weaponizing" the Inspector General position
Asked about the results of the report at his April 6 news briefing, Mr. Trump declared: "It's just wrong. Did I hear the word 'inspector general'? Really? It's wrong. And they'll talk to you about it. It's wrong."
"Where did he come from, the inspector general? What's his (sic) name? No, what's his name? What's his name?" When told of Ms. Grimm's two-plus decades in government under Republican and Democratic administrations, Mr. Trump dismissed her as an Obama-era agent of the deep state, an attack he continued on Twitter the next day.
"We simply cannot allow President Trump to weaponize independent oversight positions in his administration to reward his friends, punish his political enemies and cover up wrongdoing." | Source: NY Times
World leaders join to pledge $8 billion for vaccine, but the U.S. sits out
The multilateral effort stood in sharp contrast to the solo road the United States is on as scientists everywhere scramble to develop a vaccine to stop the virus that has ravaged most parts of the globe, leaving 250,000 dead so far. – Source: NY Times
---
---
Dr Fauci: There is no evidence coronavirus was created in Chinese lab
– Source: National Geographic Interview
---
Trump: I wasn't warned
Trump: "On January 23, I was told that there could be a virus coming in but it was of no real import. In other words it wasn't, 'Oh, we've got to do something, we've got to do something.' It was a brief conversation, and it was only on January 23" – NBC News
May 4
Dr Birx: Protesters are "devastatingly worrisome"
White House coronavirus task force coordinator Deborah Birx said protesters' disregard of social distancing is "devastatingly worrisome." Meanwhile, governors are outlining plans to reopen along widely varying timelines as federal officials defend the White House's decision to let states decide. – Source: Washingon Post
Daily death toll will reach about 3,000 by June 1
As President Trump presses for states to reopen their economies, his administration is privately projecting a steady rise in the number of coronavirus cases and deaths over the next several weeks. The daily death toll will reach about 3,000 on June 1, according to an internal document obtained by The New York Times, nearly double the current number of about 1,750
Trump now expects deaths to top 100,000
In an event with Fox News at the Lincoln Memorial on Sunday night, President Trump acknowledged that the coronavirus has turned out to be more devastating than he anticipated. He now expects up to 100,000 Americans to die from it, he said, and he continued to blame China.
– Source: NY Times
May 3
Pompeo contradicts himself in ABC News interview
May 2
Trump Moves to Replace Watchdog Who Identified Critical Medical Shortages
President Trump moved on Friday night to replace a top official at the Department of Health and Human Services who angered him with a report last month highlighting supply shortages and testing delays at hospitals during the coronavirus pandemic. | Read More
Dana Milbank: Trump's gun-toting supporters are firing blanks
"At the American Patriot Rally at the state Capitol in Lansing, Mich., on Thursday, many of the hundreds of protesters wore red "Make America Great Again" caps or flew "Trump 2020" banners and "Build the Wall" or "Drain the Swamp" signs. Others waved the yellow "Don't Tread on Me" flags of the tea party. Demonstrators, several armed with military-style guns, then marched into the statehouse and stared down the police.
What did they propose to do with these weapons? Shoot the virus? Shoot the governor? Shoot themselves in the foot?" – Continue Reading
Trump blocks Fauci from testifying before House panel
The White House is blocking Anthony S. Fauci from testifying before a House subcommittee investigating the coronavirus outbreak and response, arguing that it would be "counterproductive" for him to appear next week while in the midst of participating in the government's response to the pandemic. – Source: Washington Post
May 1
Trump contradicts U.S. Intelligence Agency and claims to have seen evidence that coronavirus originated at Wuhan lab
Trump said on Thursday that he has seen information that gives him "a high degree of confidence" that the novel coronavirus originated from the Wuhan Institute of Virology. Earlier, the Office of the Director of National Intelligence announced in a statement that COVID-19 was "not manmade or genetically modified" and that they will continue to examine "whether the outbreak began through contact with infected animals or if it was the result of an accident at a laboratory in Wuhan." – Source: CNN
Trump, asked about the Office of Director of National Intelligence statement that the virus was not manmade or genetically modified, asks who specifically made the statement. Told it was the office, he says cryptically, "Oh, he would know that, huh? National Intelligence." – Source: Daniel Dale/CNN
"These are very good people"
Trump expressed support Friday for armed protesters who had stormed the Michigan Capitol, demanding the state lift coronavirus restrictions, as researchers estimated that the coronavirus pandemic could stretch on for two more years.
Trump tweeted Friday that "these are very good people, but they are angry. They want their lives back again, safely!" – Source: Washington Post
Staggering Unemployment
More than 30 million people in the U.S. have filed for unemployment benefits in the past six weeks, a figure that might still undercount the number of job losses, economists say.
April 30
"Fading out" distancing
As states move ahead with plans to reopen their economies, Trump indicated that he would not extend federal distancing guidelines, which expire today. "They'll be fading out, because now the governors are doing it," he said.
April 29
F.D.A. Plans to Announce Emergency Use of New Drug
Dr. Anthony S. Fauci calls a study of an experimental virus drug, remdesivir, "very optimistic," as another study found no benefit to severely ill patients.
Meat processing workers told to get back to work
Trump signed an executive order in an effort to keep meat processing plants open. Unions and labor advocates said the administration needed to do more to protect workers, thousands of whom have become sick.
April 28
Data suggest a higher-than-reported toll
Total deaths in seven states that have been hard hit by the coronavirus pandemic are nearly 50 percent higher than normal, according to new statistics from the Centers for Disease Control and Prevention.
It's unclear whether the excess deaths are because of the virus or from other causes, but they reflect a global trend in which far more people have died than in previous years.

NY Times
Pense refuses to wear mask at Mayo Clinic
Vice President Pence on Tuesday visited the Mayo Clinic and spoke with patients and staff while not wearing a face mask, an apparent violation of the medical center's policy during the coronavirus pandemic." Apparently, he was told about the policy and chose to disregard it. ("The Mayo Clinic confirmed Tuesday afternoon in a now-deleted tweet that it had communicated its masking policy to the vice president and his team.") Unfortunately, the clinic did not bar the vice president from the facility.
– Jennifer Rubin Op-Ed "The Cult of Trump"
Repeatedly warned
While Covid-19 cases hit 1 Million in U.S. – Trump blames sanctuary cities
Trump Donor's Hotel Companies Got $96.1 Million Meant for Small Businesses
Dallas billionaire Monty Bennett had a special hand in draining the first round of PPP money—he's the single biggest recipient of PPP funds, with $96.1 million going to his businesses. Bennett is the the head of what The Dallas Morning News calls a "hotel empire." Bennett personally donated $50,000 to Donald Trump's re-election committee. – Source: Dallas Morning News
Trump will now "double" number of tests he had said were "fully sufficient"
President Trump resumed his daily coronavirus briefings on Monday with a vow to "double" the number of tests, after previously saying that testing levels were "fully sufficient to begin opening up the country." About 1.6 percent of the population has been tested.
About 1.6 percent of the population has been tested. – Source: NY Times
---
April 27
260,000 Words, Full of Self-Praise, From Trump on the Virus
At his White House news briefing on the coronavirus on March 19, President Trump offered high praise for the commissioner of the Food and Drug Administration, Stephen Hahn. "He's worked, like, probably as hard or harder than anybody," Mr. Trump said. Then he corrected himself: "Other than maybe Mike Pence — or me."
By far the most recurring utterances from Mr. Trump in the briefings are self-congratulations, roughly 600 of them, which are often predicated on exaggerations and falsehoods. He does credit others (more than 360 times) for their work, but he also blames others (more than 110 times) for inadequacies in the state and federal response.
Mr. Trump's attempts to display empathy or appeal to national unity (about 160 instances) amount to only a quarter of the number of times he complimented himself or a top member of his team.
Pelosi: President Trump's Effort To Sideline The WHO Is 'Dangerous'
House Speaker Nancy Pelosi, D-Calif., is criticizing President Trump's effort to withhold funding from the World Health Organization and other steps his administration is reportedly taking to sideline the global health agency.
"It's stupid — it's more than stupid; it's dangerous," Pelosi told NPR
– Source: NPR
April 26
Reported US coronavirus deaths:
8 weeks ago: 2 deaths
7 weeks ago: 21 deaths
6 weeks ago: 65 deaths
5 weeks ago: 413 deaths
4 weeks ago: 2,425 deaths
3 weeks ago: 9,643 deaths
2 weeks ago: 22,079 deaths
1 week ago: 40,677 deaths
Today: 54,856 deaths
Spike in New Yorkers ingesting household cleaners
An unusually high number of New Yorkers contacted city health authorities over fears that they had ingested bleach or other household cleaners in the 18 hours that followed President Trump's bogus claim that injecting such products could cure coronavirus, the Daily News has learned.
The Poison Control Center, a subagency of the city's Health Department, managed a total of 30 cases of possible exposure to disinfectants between 9 p.m. Thursday and 3 p.m. Friday, a spokesman said. – Source: NY Daily News
April 25
Replacement of HHS Secretary Alex Azar expected
White House officials are discussing whether to replace Health and Human Services Secretary Alex Azar as frustrations have grown over his handling of the coronavirus crisis earlier this year, as well as of his removal last week of a top vaccine official in his agency, which created an uproar.
– Source: Washington Post
NBC's Joe Scarborough Op-ed: The cost of Trump's deadly state of denial
"The United States now finds itself in the worst crisis since World War II with a leader less suited for the presidency than anyone who has ever occupied the office … As long as Donald Trump remains in the White House, the crisis that stalks our land will only get worse." – Joe Scarborough | NBC
April 24
Trump claims he was being sarcastic about disinfectants "just to see what would happen"
Trump now says virus media briefings a 'waste of time'
"What is the purpose of having White House News Conferences when the Lamestream Media asks nothing but hostile questions, and then refuses to report the truth or facts accurately…They get record ratings, and the American people get nothing but Fake News," he complained. "Not worth the time and effort!" – Trump 4/24
Revealed: leader of group peddling bleach as coronavirus 'cure' wrote to Trump this week
The leader of the most prominent group in the US peddling potentially lethal industrial bleach as a "miracle cure" for coronavirus wrote to Donald Trump at the White House this week.
In his letter, Mark Grenon told Trump that chlorine dioxide – a powerful bleach used in industrial processes such as textile manufacturing that can have fatal side-effects when drunk – is "a wonderful detox that can kill 99% of the pathogens in the body". He added that it "can rid the body of Covid-19".
A few days after Grenon dispatched his letter, Trump went on national TV at his daily coronavirus briefing at the White House on Thursday and promoted the idea that disinfectant could be used as a treatment for the virus.
– Source: The Guardian
---
Navy Leaders Recommend Reinstating Roosevelt Captain Fired Over Virus Warning

Capt. Brett E. Crozier should be restored to command of the aircraft carrier Theodore Roosevelt, the Navy's top officials recommended on Friday.
But Defense Secretary Mark T. Esper, who was briefed on the recommendations, has asked for more time to consider whether to sign off on reinstating the captain of the nuclear-powered carrier.
After he was fired by a political appointee of President Trump, the saga took on new meaning. A video of hundreds of cheering sailors yelling "Captain Crozier!" as he departed the aircraft carrier, black backpack on his shoulder, went viral.
– Source: NY Times
---
FDA issues warnings on chloroquine and hydroxychloroquine
The Food and Drug Administration warned consumers Friday against taking chloroquine and hydroxychloroquine to treat Covid-19 outside a hospital or formal clinical trial after "serious" poisoning and deaths were reported.
The drugs have been touted by President Donald Trump as a potential "game-changer" in the fight against the coronavirus. Both drugs are in clinical trials examining their effectiveness in treating the coronavirus, but neither are proven treatments.
NY Times: Trump not attending Covid task force meetings
"Mr. Trump rarely attends the task force meetings that precede the briefings, and he typically does not prepare before he steps in front of the cameras. He is often seeing the final version of the day's main talking points that aides have prepared for him for the first time although aides said he makes tweaks with a Sharpie just before he reads them live …"
– Source: NY Times
Lysol manufacturer warns against internal use after Trump comments
"Under no circumstance should our disinfectant products be administered into the human body through injection, ingestion or any other route," a Lysol spokesman says.
Medical professionals were quick to dispute Trump's claims as "irresponsible" and "dangerous."
"I see the disinfectant that knocks it out in a minute, one minute. And is there a way we can do something like that by injection inside or almost a cleaning? As you see, it gets in the lungs, it does a tremendous number on the lungs, so it would be interesting to check that." – Trump
April 23
McConnell: U.S. states should consider bankruptcy
Senator Mitch McConnell, the majority leader, said this week that states, which shared $150 billion from previous pandemic aid, should consider filing for bankruptcy. But there is bipartisan agreement that Congress will need to help more, our chief Washington correspondent writes.
– Source: Washington Post
Calls to stop airing Trump's press conferences
Sarah Kendzior, author of Hiding in Plain Sight today writes: "The media needs to stop airing his press conferences. Put scientists, health officials, and local officials on instead. Trump is giving advice that is killing people. Airing these press conferences makes you an accomplice to murder."
Trump suggests 'injection' of disinfectant to beat coronavirus and 'clean' the lungs
President Donald Trump suggested the possibility of an "injection" of disinfectant into a person infected with coronavirus as a coronavirus deterrent at the White House daily briefing on Thursday.
"I see the disinfectant that knocks it out in a minute, one minute. And is there a way we can do something like that by injection inside or almost a cleaning," the president said during the briefing, speaking to his health officials. "As you see it gets in the lungs, it does a tremendous number on the lungs, so it would be interesting to check that."
He did not specify the kind of disinfectant. A Homeland Security official, under questioning from reporters, later said federal laboratories are not considering such a treatment option.
---
Millions of Americans are still waiting for their first unemployment check
Out of work, out of cash and running out of patience … more than 26 million workers nationwide are seeking unemployment benefits, many of whom are still waiting for approval. The economic carnage wrought by the coronavirus has resulted in a national backlog of at least 3 million unpaid jobless claims, according to a new analysis by The Washington Post, threatening Americans around the country with even more financial hardship than they anticipated. – Washington Post
---
Trump lies about testing
The United States has tested about 4.2 million people. The rest of the world combined has tested a total of about 18.5 million. Yet, Trump repeated the false claim that U.S. has tested more than all other countries put together. "The testing problem," Trump said Wednesday, "we've done more than any other nation in the world. Go a step further. If you added up the testing of every nation in the world, put 'em together, we've done substantially more than that. You people aren't satisfied." – Source: Washington Post
The anti-quarantine protests seem spontaneous. But behind the scenes, a powerful network is helping
The protests erupting over coronavirus restrictions are often coordinated and backed by longtime conservative activists, whose organizations were built with funding from Republican megadonors – Source: Washington Post
---
There's no such thing as "coronavirus embers"
NPR:
President Trump expressed doubt about a potential serious second wave of the coronavirus this fall. He claimed new cases may appear on a smaller scale. "We may have some embers," he said, "and we're going to put them out." That contradicts Fauci. "We will have coronavirus in the fall, I am convinced of that," Fauci said, adding, "Whether or not it's going to be big or small is going to depend on our response." The fact is: there is no lessened version of this virus. And without a vaccine or a proven treatment, another outbreak is likely – Source: NPR
Doctor removed after questioning hydroxychloroquine
Dr. Rick Bright, who led the federal agency involved in developing a coronavirus vaccine, said he was removed from his post after he pressed for rigorous vetting of hydroxychloroquine, an anti-malaria drug promoted by President Trump. Fox News hosts have recently stopped talking about the drug, as studies and health experts have increasingly questioned its effectiveness. – Source: NY Times
---
Virus might have been spreading undetected
The discovery that a woman in the California Bay Area died of the coronavirus on Feb. 6 has rewritten the timeline of the outbreak's early spread in the U.S. and raises new questions about where the virus might have been spreading undetected. – Source: NY Times
---
"Tatoo parlors… I love them. But they can wait just a little bit longer"
---
April 22
Reported U.S. coronavirus cases
Feb. 22: 35 cases
Mar. 22: 34,276 cases
Apr. 22: 846,982 cases
Trump, Redfield contradict each other at presser
Robert Redfield, director of the Centers for Disease Control and Prevention, said he was accurately quoted in an article, despite the president saying Redfield was misquoted. – Source ABC News
Coal company with ties to the Trump administration received a $10 million small business loan
Hallador Energy has several hundred more employees than the standard firm awarded money under the $2 trillion stimulus bill. And it has at least two important ties to the Trump administration: Scott Pruitt, the former Environmental Protection Agency administrator, was hired last year to lobby for it; and the company's former government relations director now works at the Energy Department. Source: MSN
---
CDC director warns second wave of virus is likely to be even more devastating
The nation's top public health official warned that a second wave of the virus would probably coincide with the start of flu season and could overwhelm the health system
"There's a possibility that the assault of the virus on our nation next winter will actually be even more difficult than the one we just went through," CDC Director Robert Redfield said in an interview with The Washington Post. "And when I've said this to others, they kind of put their head back, they don't understand what I mean." – Source: Washington Post
---
Cuomo Meets with Trump
New York Gov. Andrew Cuomo said late Tuesday he had a "productive" meeting with President Trump and his team at the White House. During an evening press conference in Albany, Cuomo said Trump committed to procure more coronavirus testing supplies from China and other overseas manufacturers.
The goal is for New York to double the number of people tested daily from 20,000 to 40,000 by mid-May. – Source: NPR
---
Trump narrows call to ban immigration
The president said on Tuesday that he would order a 60-day halt in issuing green cards, but he backed away from plans to suspend guest worker programs after criticism from business groups that feared losing access to foreign labor. – NY Times
"Trump's own internal polling shows him sliding in some swing states, a major reason he declared a temporary halt to the issuance of green cards to those outside the United States. The executive order — watered down with loopholes after an uproar from business groups — was aimed at pleasing his political base, people close to him said, and was the kind of move Mr. Trump makes when things feel out of control. Friends who have spoken to him said he seemed unsettled and worried about losing the election."
– Source: New York Times
April 21, 2020
Barr Threatens Legal Action Against Governors Over Lockdowns
The Justice Department will consider taking legal action against governors who continue to impose stringent rules for dealing with the coronavirus that infringe on constitutional rights even after the crisis subsides in their states, Attorney General William Barr said. Conservative groups and activists have been ramping up pressure for the Trump administration — and Barr in particular — to act against governors taking a hard line.
– Source: Bloomberg
Officials working out details of Trump's order to suspend immigration to the U.S
The president's announcement Monday night that he intends to sign an executive order to temporarily suspend immigration apparently revealed a policy that was not yet ready for implementation, leaving his aides rushing to deliver on his pronouncement. – Washington Post
40,000 dead but ratings "through the roof"
April, 20, 2020
"Leadership: Whatever happens – you're responsible"
"There is no need to compare Trump to some lofty ideal to see that he has failed. Long before the president took office, he defined his notion of a leader. In November 2013, he tweeted: "Leadership: Whatever happens, you're responsible. If it doesn't happen, you're responsible."
Yet today he is pointing the finger at everyone and anyone but himself and his administration for the virulent spread of the coronavirus in the United States: the World Health Organization, China, state governors, Democrats.
-Source: The Boston Globe (editorial)
---
OIL MARKET CRASHES, PRICES BELOW $0
"Maybe the biggest oil deal ever made" – Donald Trump
Stocks are on track to close down over 500 points as U.S. oil prices collapsed today to their lowest levels in history, at one point falling well below $0, to negative $25 per barrel. Earlier this week Pres. Trump credited himself with saving the oil industry, saying he had negotiated 'maybe the biggest oil deal ever made.' The COVID-19 crisis has dramatically reduced fossil fuel usage, causing prices to nosedive and storage tanks to fill up. 'The United States is running out of places to store its oil,' the NY Times reported. Climate advocates called on the U.S. to take advantage of the crisis to make a fundamental shift to clean energy, but Trump and congressional Republicans say they plan to push for a fossil fuel industry taxpayer bailout.
As of today, 40,683 people have died from coronavirus in the U.S.
Source: Washington Post
---
Most of the protesters "stood 6 feet apart" – Trump
Ideological underbelly of Trump's support for right-wing protests
In Washington state, one GOP legislator claimed an ongoing "rebellion" against Democratic Gov. Jay Inslee, while hinting that if such restrictions continued, "we'll see what a revolution looks like."

In Michigan, signs have blared messages that include "Live free or die" and "Heil Whitmer," a reference to Democratic Gov. Gretchen Whitmer, even as some protesters toted rifles.

In Denver, protesters carried signs saying things such as "Dangerous freedom over gov't tyranny." – Source: The Washington Post
April 19, 2020
Crowds flocked to Florida beaches this weekend
News footage showed Jacksonville shorelines speckled with people — many swimming, running or lounging close enough to share virus particles — a day after Gov. Ron DeSantis (R) mocked California's beach bans and said, "I think we've got to be promoting people to get exercise." – Washington Post
Thousands of Americans backed by rightwing donors gear up for protests
Thousands of people are preparing to attend protests across the US in the coming days, as a rightwing movement against stay-at-home orders, backed by wealthy conservative groups and promoted by Donald Trump, continues to take hold.
As with the Tea Party, the anti-stay-at-home movement has been promoted by a rightwing media eager for the economy to reopen, including Fox News.
Source: The Guardian
Trump's assertion that the WHO failed to communicate doesn't ring true
More than a dozen U.S. researchers, physicians and public health experts, many of them from the Centers for Disease Control and Prevention, were working full time at the Geneva headquarters of the World Health Organization as the novel coronavirus emerged late last year and transmitted real-time information about its discovery and spread in China to the Trump administration, according to U.S. and international officials.
A number of CDC staff members are regularly detailed to work at the WHO in Geneva as part of a rotation that has operated for years. Senior Trump-appointed health officials also consulted regularly at the highest levels with the WHO as the crisis unfolded, the officials said.
The presence of so many U.S. officials undercuts President Trump's assertion that the WHO's failure to communicate the extent of the threat, born of a desire to protect China, is largely responsible for the rapid spread of the virus in the United States. – Washington Post
---
April 18, 2020
Reported US coronavirus deaths:
7 weeks ago: 1 death
6 weeks ago: 19 deaths
5 weeks ago: 58 deaths
4 weeks ago: 323 deaths
3 weeks ago: 2,043 deaths
2 weeks ago: 8,488 deaths
1 week ago: 20,604 deaths
Today: 38,664 deaths
---
April 17, 2020
Trump calls protesters against stay-at-home orders 'very responsible'
Donald Trump has posted highly incendiary tweets stoking protests against physical distancing and other coronavirus stay-at-home measures in three states led by Democratic governors.
"These are people expressing their views," [Trump] told reporters. "I see where they are and I see the way they're working. They seem to be very responsible people to me, but they've been treated a little bit rough." – Source: The Guardian
---
Trump Supporters: It's China's fault
"I don't think I want to buy anything again from China, even if I've got to pay double," he said. "These people created a pandemic that I don't think we'll ever get out of 100 percent, probably in my lifetime. It's terrible."
– Maurice Rosenstein / Trump Supporter
– Source NY Times
Trump's false claim that the WHO said the coronavirus was 'not communicable'
The president's announcement that he would suspend payments to the World Health Organization in the midst of the coronavirus pandemic contained a number of false or misleading claims. He faulted the WHO for believing that China was doing a good job and praising its transparency — when he had done the same thing at the time. He claimed the WHO "fought" his decision to impose some restrictions on travel from China, but WHO officials said nothing publicly; opposition to travel restrictions has been a consistent WHO policy. – Washington Post
April 16, 2020
Trump's name on check may delay payments
Trump said he was not a part of the decision to have his name on the coronavirus impact checks, adding Americans will be "very happy to get a big, fat, beautiful check" regardless of his name being on it.
US House Speaker Nancy Pelosi slammed Donald Trump as "shameful" Wednesday after it emerged that the president's name will be printed on stimulus checks, potentially delaying payments to Americans struggling during the coronavirus crisis.
"Delaying direct payments to vulnerable families just to print his name on the check is another shameful example of President Trump's catastrophic failure to treat this crisis with the urgency it demands."
---
Navy Capt. Brett Crozier could be reinstated
The Navy is looking into whether it can reinstate Capt. Brett Crozier, who was removed from command after he pleaded for help fighting an outbreak aboard the aircraft carrier Theodore Roosevelt, Pentagon officials said.
---
17 bodies found stacked in New Jersey nursing home
After an anonymous tip to the police, 17 bodies were discovered at a nursing home in New Jersey that has been hit hard by the virus.
---
Testing remains "restricted", shortages "rampant"
Although capacity has improved in recent weeks, most of the U.S. isn't conducting enough tests to track the coronavirus in a way that would let Americans return to work safely, public health officials and business and political leaders say.
With supply shortages rampant, many tests are restricted to people who meet specific criteria. Antibody tests, to reveal whether someone has ever been infected with the virus, are just starting to be rolled out, and most have not been vetted by the Food and Drug Administration.
Source: NY TIMES


April 15, 2020
Trump's name to appear on US relief cheques
It is the first time a US president's name will appear on a federal government handout.
Treasury officials have denied claims that the decision could delay delivery of the aid.
The assistance is part of a $2 trillion financial relief package approved by the US Congress in March.
Some 16m lost their jobs in the past month alone.
More than 80 million Americans are expected to receive payments of up to $1,200 in their bank accounts on Wednesday, according to the Treasury Department
But for those who did not provide banking details, they will receive a cheque with "President Donald J. Trump" printed on the left-hand side.
"It's absolutely unprecedented," Nina Olson, a former senior official in the Internal Revenue Service, told the Washington Post.
"Taxes are supposed to be nonpolitical, and it's that simple."
Two senior IRS officials told the Washington Post the move would probably lead to a delay in issuing the first batch of cheques. The Treasury Department denied this. | Source: BBC
---
Coronavirus: Trump's WHO de-funding 'as dangerous as it sounds'
Trump has accused the WHO of making deadly mistakes and overly trusting China.
"I am directing my administration to halt funding while a review is conducted to assess the World Health Organization's role in severely mismanaging and covering up the spread of the coronavirus," Mr Trump told reporters on Tuesday.
A White House statement on Wednesday said the agency had "failed" the US people.
"The American people deserve better from the WHO, and no more funding will be provided until its mismanagement, cover-ups and failures can be investigated," it read.
In other reaction:
Philanthropist Bill Gates, a major funder of the WHO, said it was "as dangerous as it sounds"
A spokesman for UK Prime Minister Boris Johnson said there were "no plans" to halt funding and said the WHO had "an important role to play in leading the global health response". The UK gives most of any country apart from the US
Germany's foreign minister Heiko Mass tweeted that strengthening the "under-funded" WHO was one of the best investments that could be made at this time
Chinese foreign ministry spokesman Zhao Lijian said that the decision would "undermine international co-operation" in fighting the virus
The American Medical Association said it was a "dangerous step in the wrong direction"
There was no justification for the move at a time when the WHO was "needed more than ever", said the EU's foreign policy chief Josep Borrell
Australian PM Scott Morrison said he sympathised with Mr Trump's criticisms but that the WHO also does "a lot of important work"
New Zealand leader Jacinda Ardern said the WHO had provided "advice we can rely on"
The president was doing "whatever it takes to deflect from the fact that his administration mismanaged this crisis", said Democratic representative Eliot Engel
The decision was "exactly right", said US Senator Josh Hawley, among many Republicans who share Mr Trump's views on the WHO
Source: BBC
---
As U.S. death toll soars, Trump accuses WHO of coronavirus coverup and suspends funding; global infections near 2 million
President Trump accused the World Health Organization of "severely mismanaging and covering up the spread of the coronavirus" and said Tuesday that he intends to halt payments to the U.N. agency until a review is conducted. The move was expected, as Trump has deflected blame for initially downplaying the seriousness of the virus that has killed more than 25,000 people in the United States and instead sought to point a finger at the WHO.
As the number of confirmed infections worldwide approaches 2 million, U.N. Secretary General António Guterres warned that this is "not the time to reduce the resources … in the fight against the virus." Philanthropist Bill Gates said halting funding amid a pandemic "is as dangerous as it sounds."
Source: Washington Post
---
April 14, 2020
Trump claims "total" authority
When President Trump was asked during Monday's news briefing what authority he has to reopen the country, he didn't hesitate to answer. "I have the ultimate authority," the president responded, cutting off the reporter who was speaking.
Trump later clarified his position further, telling reporters, "When somebody is the president of the United States, the authority is total and that's the way it's got to be. … It's total. The governors know that."
The local leaders, Trump said, "can't do anything without the approval of the president of the United States." – Source: Washington Post
---
Trump retweets #FireFauci – then denies rumors as "ridiculous"
The White House on Monday shot down speculation that President Trump may move to fire Anthony Fauci, the government's top infectious diseases expert, after the president shared a tweet a night earlier that contained the hashtag "#FireFauci."
"This media chatter is ridiculous – President Trump is not firing Dr. Fauci," deputy press secretary Hogan Gidley said in a statement. – Source: The Hill
April 13, 2020
"I have been brutalized for the last four years"
"But sort of I have been brutalized for the last four years. I used to do well, before I decided to run for politics. But I guess I'm doing OK, because, to the best of my knowledge, I'm the President of the United States, despite the things that are said." – Trump at 4/13 presser
Sailor From USS Theodore Roosevelt Dies From Covid-19
A U.S. sailor from the aircraft carrier Theodore Roosevelt, which has been stricken with the largest novel coronavirus outbreak in the U.S. military, died Monday from complications of the virus, the Navy said.
The name of the sailor, a chief petty officer who was the first aboard the aircraft carrier to die from the virus, is being withheld until relatives are notified | Source: Wall Street Journal
---
Trump considering firing Dr. Fauci
Trump reposted a Twitter message that said "Time to #FireFauci" as he rejected criticism of his slow initial response to the pandemic that has now killed more than 22,000 people in the United States. The president privately has been irritated at times with Dr. Fauci, but the Twitter post was the most explicit he has been in letting that show publicly. | Source: NY Times
---
Fauci confirms New York Times report Trump rebuffed social distancing advice
Dr Anthony Fauci confirms New York Times report Trump rebuffed social distancing
Asked on CNN's State of the Union why the administration did not act when he and other officials advised, Fauci said: "You know … as I have said many times, we look at it from a pure health standpoint. We make a recommendation. Often, the recommendation is taken. Sometimes, it's not.
"…It is what it is. We are where we are right now."
---
Trump reacts to NY Times report critical of inaction
President Trump is clearly unhappy with a New York Times report published Saturday that details several instances in which his "inability or unwillingness to absorb warnings coming at him" from top officials about the COVID-19 coronavirus, starting in mid-January, led to his administration "squandering vital time as the coronavirus spread silently across the country." | Read more
---
20,602 Dead in U.S.
April 12, 2020
He Could Have Seen What Was Coming: Behind Trump's Failure on the Virus
NEW YORK TIMES | An examination reveals the president was warned about the potential for a pandemic but that internal divisions, lack of planning and his faith in his own instincts led to a halting response …
By the last week of February, it was clear to the administration's public health team that schools and businesses in hot spots would have to close. But in the turbulence of the Trump White House, it took three more weeks to persuade the president that failure to act quickly to control the spread of the virus would have dire consequences. Read More
---
Fox News Easter Sunday
April 11, 2020
Trump's response was colored by his suspicion of and disdain for what he viewed as the "Deep State"
NEW YORK TIMES | "… Unfolding as it did in the wake of his impeachment by the House and in the midst of his Senate trial, Mr. Trump's response was colored by his suspicion of and disdain for what he viewed as the "Deep State" — the very people in his government whose expertise and long experience might have guided him more quickly toward steps that would slow the virus, and likely save lives.
Decision-making was also complicated by a long-running dispute inside the administration over how to deal with China. The virus at first took a back seat to a desire not to upset Beijing during trade talks, but later the impulse to score points against Beijing left the world's two leading powers further divided as they confronted one of the first truly global threats of the 21st century.
The shortcomings of Mr. Trump's performance have played out with remarkable transparency as part of his daily effort to dominate television screens and the national conversation [ . . . ]" Continue at NY TIMES
---
Coronavirus: US overtakes Italy as country with most deaths
The US has suffered more confirmed coronavirus deaths than any other country and on Saturday was poised to soon reach 19,000 Covid-19 fatalities, new data indicated.
By Saturday afternoon, Johns Hopkins University's tally of US Covid-19 fatalities was at 18,860. Italy followed with 18,849. The US was also the first country to report 2,000 deaths in a single day, with 2,108 people dying in the previous 24 hours.
New York, the hardest-hit US state, saw 783 deaths on Friday, raising the total to 8,627, governor Andrew Cuomo said at a briefing in Albany, the state capital.
"That is not an all-time high, and you can see that the numbers [are] somewhat stabilizing – but it is stabilizing at a horrific rate," Cuomo said.
Source: THE GUARDIAN
---
Covid-19 Becomes Leading Cause of Death in USA
Inflaming Racism against Asian-Americans
The climate of xenophobia was not helped by the Trump campaign's recent online attack ad, launched Thursday against presumptive Democratic presidential nominee Joe Biden. "During America's crisis, Biden protected China's feelings," the ad says, and shows a montage of images and clips, some of Biden with Chinese officials, including Xi Jinping.
As many Asians are under attack, I've heard very little from my non-Asian networks about this issue. In conversations with non-Asian Americans most were surprised to hear about this surge in hate crimes. – Source CNN
Trump Changes Story on China
In a Jan. 22 interview with CNBC, Trump said that China had been transparent about the spread of the disease. "I have a great relationship with President Xi," he added. Two days later, Trump posted in a tweet: "China has been working very hard to contain the Coronavirus. The United States greatly appreciates their efforts and transparency. It will all work out well. In particular, on behalf of the American People, I want to thank President Xi!"
That Jan. 22 interview also featured Trump's claim that there was no danger from the new virus: "It's one person coming in from China. We have it under control. It's going to be just fine."
As Virus Fears Mounted, Trump Scheduled Only 9 Intelligence Briefings In January
Even as experts in his own government were increasingly alarmed about a pandemic threat this January, President Donald Trump apparently remained unconcerned, with no scheduled intelligence briefings before Jan. 6 and only nine the entire month.
During that same month with only nine scheduled intelligence briefings, Trump spent six days on his golf course in Florida and staged five reelection rallies.
April 10, 2020
Trump's "Big Decision"

"I'm going to have to make a decision, and I only hope to God that it's the right decision," Mr. Trump said on Friday during his daily news briefing on the fight against the coronavirus pandemic that has killed more than 18,000 Americans so far and put more than 16 million out of work. "But I would say without question it's the biggest decision I've ever had to make." – NY Times
How Did the U.S. End Up with Nurses Wearing Garbage Bags?
"What they did not foresee was that the federal government might never come to the rescue. They did not realize this was a government failure by design—not a problem to be fixed but a policy choice by President Trump that either would not or could not be undone. "No one can believe it. That's the No. 1 problem with the whole situation: the facts are known, but they are inconceivable," Ries told me. "So we are just in denial." – The New Yorker | Full Story
In Reversal, Federal Support For Coronavirus Testing Sites Continues
The Department of Health and Human Services is stepping back from a plan to end support on Friday for community-based coronavirus testing sites around the country.
Instead the agency says local authorities can choose whether they want to transition to running the programs themselves or continue with federal oversight and help.
The news came after NPR reported yesterday that some local officials were critical of plans to end the program before the pandemic peaks.
Analysis: FoxNews' Ingraham, Hannity have been talking up chloroquine more than any other show
President Trump is convinced that hydroxychloroquine, a treatment for malaria, also can offer substantial relief for covid-19. Doctors and medical experts are broadly skeptical of the drug's efficacy, but Trump has nonetheless hyped it repeatedly at news briefings and in interviews.
His interviews have mostly been on Fox News, where Trump probably first saw coverage of the drug. This would not be the first time that Trump has seized on something he saw on Fox and made it part of his standard verbiage, but this may be one of the most obvious instances.
Read more here.
Trump wants to reopen country against expert advice
WASHINGTON POST: The Trump administration is pushing to reopen much of the country next month, raising concerns among health experts and economists of a possible covid-19 resurgence if Americans return to their normal lives before the virus is truly stamped out. | More
April 9, 2020
NPR: Feds to end testing
Will it leave by summer?
A panel of scientists convened by the National Academies of Sciences got together to figure out whether coronavirus would wane with the arrival of summer. Its findings were that it is unlikely to significantly diminish. Source: Washington Post
April 8, 2020
Trump blames World Health Organization
April 7, 2020
Trump Ousts Pandemic Spending Watchdog Known for Independence
NEW YORK TIMES
President Trump moved on Tuesday to oust the leader of a new watchdog panel charged with overseeing how his administration spends trillions of taxpayer dollars in coronavirus pandemic relief, the latest step in an abruptly unfolding White House power play against semi-independent inspectors general across the government | Read Full Article
Trump continues to promote hydroxychloroquine
NEW YORK TIMES
"Mr. Trump may ultimately be right, and physicians report anecdotal evidence that has provided hope. But it remains far from certain, and the president's assertiveness in pressing the case over the advice of advisers like Dr. Anthony S. Fauci, the government's top infectious disease specialist, has driven a wedge inside his coronavirus task force and has raised questions about his motives.
If hydroxychloroquine becomes an accepted treatment, several pharmaceutical companies stand to profit, including shareholders and senior executives with connections to the president. Mr. Trump himself has a small personal financial interest in Sanofi, the French drugmaker that makes Plaquenil, the brand-name version of hydroxychloroquine."
An Early Warning for the White House
WASHINGTON POST reports:
"A memo by Peter Navarro, President Trump's trade adviser, warned in late January that failing to contain a coronavirus outbreak could cost the U.S. trillions of dollars and put millions of Americans at risk of illness or death.
"The lack of immune protection or an existing cure or vaccine would leave Americans defenseless in the case of a full-blown coronavirus outbreak on U.S. soil," Mr. Navarro's memo stated.
The memo, dated Jan. 29, was the highest-level alert known to have circulated in the West Wing. It came as the administration was taking its first substantive steps to confront the crisis but during a period in which the president was also playing down the risks." – Washington Post
April 5, 2020
Mr. President: What's the Plan?
---
70 Days
"Seventy days elapsed from the first time the White House was formally notified of the outbreak in China on Jan. 3 until President Trump began to treat the virus "as a lethal force that had outflanked America's defenses and was poised to kill tens of thousands of citizens," according to Washington Post reporting based on 47 interviews with administration officials, public health experts, intelligence officers and others."
Twenty-one days in February were lost as the administration relied on a coronavirus test known to be flawed and prevented private labs from deploying better ones, blinding doctors and scientists as the virus spread across the country.- The Washington Post
April 4, 2020
"I am choosing not to do it."
The president's public refusal to wear a mask was the latest way he has cast doubt on their recommendations… Even as he announced a new federal recommendation on Friday that Americans wear masks when out in public, he immediately disavowed it: "I am choosing not to do it." – NY TIMES
Attacks Inspector General Christi Grimm on Twitter
April 3, 20202
Hospitals, governments, do-gooders and hucksters are all competing. Scams and prices are soaring.
"The eruption in demand for dwindling amounts of masks has resulted in a kind of global supply-chain bedlam. In the United States, the federal government has decided against commandeering American factories to create a new stream of masks. Instead, federal officials are competing against states, hospitals and medical suppliers for the same pool of masks, which come mostly from China." – NY TIMES 4/3/2020
Press Briefing: New York – "We're gonna find out"
Asked by ABC's Jon Karl during the White House press briefing April 3 if he can assure New Yorkers that they'll have all the ventilators they need, Trump flatly replied, "No."
"They should've had more ventilators at the time. They should've had more ventilators," Trump said. "They were totally under-serviced. We are trying to do — we are doing our best for New York. You know, we have, ah, we have states, we have a lot of states — we have territories too — but we have a lot of states that have to be taken care of. Some much more so than others."
"We happen to think that [New York Gov. Andrew Cuomo's] well-served with ventilators. We're gonna find out," continued Trump.
April 2, 2020
Trump sent a letter to Democratic leader Sen. Chuck Schumer on Thursday accusing him of leaving New York "unprepared" for the coronavirus pandemic now crippling the state because of the "impeachment hoax."
April 1, 2020
OPINION: The futility of hate-watching Trump's coronavirus briefings
"President Trump knows you like to watch.
He doesn't care if his viewers are true believers or those who curse and seethe through his daily coronavirus news briefings, which are neither newsworthy nor brief. Viewers are viewers, and television ratings are agnostic. That's what matters to the president.
Trump is a "ratings hit," The New York Times wrote in a not-complimentary recent story, comparing his audience size to the season finale of "The Bachelor." No doubt, the former reality show host loved that juxtaposition. Now his wildly unscripted briefings are the ultimate reality show, and even those hate-watching his daily lies, scorn, and gaslighting are giving him exactly what he craves [ . . . ]" – Boston Globe | Read full piece
March 30, 2020
Trump appears on "Fox and Friends"
"The federal government has done far more than if anybody else was president. If "Sleepy Joe" [ Democratic candidate Joe Biden] was president he wouldn't even know what's going on. You know that. I mean everybody knows that… New York should be fine … they should have more than enough ventilators based on the numbers that we see … Russia, Iran, and China [are conspiring to blame the US for coronavirus] using the same principles they used to infiltrate our 2016 election" – Donald Trump
During the Fox and Friends interview, Trump openly admitting if we made voting easier in America, Republicans wouldn't win elections. "The things they had in there were crazy. They had levels of voting, that if you ever agreed to it you'd never have a Republican elected in this country again."
---
NPR: How 15 Days Became 45: Trump Extends Guidelines To Slow Coronavirus
Two weeks ago, President Trump entered the White House briefing room and announced an aggressive plan to slow the spread of the coronavirus.
Stay home for 15 days, he told Americans. Avoid groups of more than 10 people. "If everyone makes this change, or these critical changes, and sacrifices now, we will rally together as one nation and we will defeat the virus," he said.
On Sunday, the night before Day 15, Trump told the country to stick with the plan for another month, until April 30.
"The better you do, the faster this whole nightmare will end," Trump said.
It was an abrupt end to two weeks of whiplash as Trump veered between conflicting advice from public health experts, who were looking at data from labs and hospitals, and friends in the business community, who were looking at the harm to the economy. – Source: NPR
March 29, 2020
Trump challengers reporter, "Be nice"
Trump tweets that he is a "ratings hit" during pandemic
LATEST NEWS:
The White House will decide this week whether to relax national social distancing guidelines against the advice of medical experts, even as the coronavirus death toll accelerates in the United States, with more than 2,200 fatalities among 130,000 confirmed infections. State officials reported nearly 450 deaths on Saturday alone. – Source: The Washington Post
March 28, 2020
Under Intense Criticism, Trump Says Government Will Buy More Ventilators
In another day of mixed messages, the president criticized G.M. and authorized the use of the Defense Production Act to force it to make ventilators after the company had already announced it was going to.
In a late-afternoon news conference, Mr. Trump said, "Now it turns out we will have to be producing large numbers." He said that over the next 100 days, "we will either make or get, in some form, over 100,000 additional units," more than three times the nation's annual production. Later, he insisted, "We're going to have plenty."

New York Times
Trump Lashes Out at Michigan Gov. After She Criticized His 'Mind-Boggling' Coronavirus Response
President Donald Trump has hit out at the governor of Michigan shortly after she condemned his "slow" and "mind-boggling" response to the novel coronavirus pandemic. Just before Trump targeted her in an angry Twitter post, Gov. Gretchen Whitmer appeared on MSNBC to say that "the federal government did not take this seriously early enough" and added: "To hear the leader of the federal government tells us to work around the federal government because it's too slow is kind of mind-boggling." She was referring to Trump's comments from Monday, when he told several governors on a conference call that they are largely on their own in stocking up on gear such as respirators and ventilators.
– Source The Daily Beast
Twitter Removes Giuliani post "misinformation"
A tweet by Donald Trump's personal attorney Rudy Giuliani has been removed from the platform for pushing misinformation about chloroquine usage and making false claims against Michigan Governor Gretchen Whitmer, according to Mediaite. Giuliani posted the tweet that included direct quotes from controversial Trump supporter Charlie Kirk, including the falsehood that hydroxychloroquine, an anti-malaria drug being touted by Trump as a possible treatment for coronavirus symptoms, is safe and "in at least three international tests was found 100% effective in treating the coronavirus." The tweet also stated that Michigan Democratic Governor Gretchen Whitmer is "the latest Democrat to ban doctors from prescribing the lifesaving drugs hydroxychloroquine and Z-Paks to save senior citizens in the state." – Source The Daily Beast
March 27, 2020 "I'm not sure anybody even knows what it is"
"You can call it a germ. You can call it a flu. You can call it a virus. You can call it many different names. I'm not sure anybody even knows what it is." – Donald Trump
Trump to Mike Pence: 'Don't call the woman in Michigan,' aka Gov. Gretchen Whitmer
President Donald Trump said Friday he has asked Vice President Mike Pence not to call governors he says have not been "appreciative" enough of his efforts on coronavirus – a group of critics that included a governor he referred to only by gender,
"Don't call the woman in Michigan," Trump said at a press conference while discussing Pence's work as head of the White House Coronavirus Task Force.
That governor – Gretchen Whitmer – replied on Twitter that "right now, we all need to be focused on fighting the virus, not each other."
"I'm willing to work with anyone as long as we get the personal protective equipment we need for the people of Michigan," she said.
Trump told reporters that most – but not all – governors have been appreciative of his administration's response to the coronavirus pandemic.
"I want them to be appreciative," he said. "I don't want them to say things that aren't true." – Source USA Today
"But remember," Trump told Hannity, "we're really a second line of attack. The first line of attack is supposed to be the hospitals and the local government and the states — the states themselves."
– Trump from interview with Fox News Sean Hannity
March 26, 2020: Unpresidential behavior
March 25, 2020: Testing Lies
Washington state radio station won't air Trump briefings because of 'false or misleading information'
A public radio station in Washington state, KUOW, will no longer be airing White House press briefings on the coronavirus "due to a pattern of false or misleading information provided that cannot be fact checked in real time."
The president has participated in the briefings with the administration's coronavirus task force almost every day, standing alongside members of his Cabinet and public health officials.
"KUOW is monitoring White House briefings for the latest news on the coronavirus — and we will continue to share all news relevant to Washington State with our listeners," the station said in a tweet.
"However, we will not be airing the briefings live due to a pattern of false or misleading information provided that cannot be fact checked in real time," it added.
Source: The Hill
Trump spars with Fauci, reporter on unproven drug
March 24, 2020: Trump says he wants 'the country opened' by Easter
Washington Post
Trump says he wants 'the country opened' by Easter, citing concerns coronavirus crackdown is hurting the economy
President Trump continued to play down the dangers of the coronavirus pandemic as experts warned of a worsening crisis: A World Health Organization official said Tuesday that "we are now seeing a very large acceleration" in U.S. coronavirus infections, adding that America has the potential to become the new epicenter of the global crisis.
More than 46,000 coronavirus cases have been confirmed in the United States, although experts say the true number is much higher. On Monday, U.S. deaths surpassed 100 in a single day for the first time.
Source: Washington Post
---
"We've had horrible flus," Trump said March 24. "I mean, think of it: we average 36,000 people. Death. Death. I'm not talking about cases, I'm talking about death — 36,000 deaths a year. People die — 36 [thousand] — from the flu. But we've never closed down the country for the flu. So you say to yourself, 'What is this all about?'" – National Public Radio
Trump: Governors "have to treat us well"
Trump put the squeeze on (Ukraine President) Zelensky in a phone call last July. "We do a lot for Ukraine," he said. He complained that the relationship wasn't "reciprocal," and he asked for a "favor." Today, Trump talks the same way about governors who plead for masks, ventilators, and coronavirus tests. "It's a two-way street," he told Fox News on March 24. "They have to treat us well also." – Slate Magazine
March 23, 2020: Man dies ingesting chloroquine
March 21, 2020: Stop Lying
Source: BOSTON GLOBE
"U.S. intelligence agencies were issuing ominous, classified warnings in January and February about the global danger posed by the coronavirus while President Donald Trump and lawmakers played down the threat and failed to take action that might have slowed the spread of the pathogen, according to U.S. officials familiar with spy agency reporting."
"Donald Trump may not have been expecting this, but a lot of other people in the government were – they just couldn't get him to do anything about it," this official said. "The system was blinking red." – Boston Globe
---
March 20, 2020
"What do you say to Americans who are scared?" Alexander asked Trump at today's press conference.
"I say that you're a terrible reporter," Trump answered.
---
The New York Times reports that after saying last month that the U.S. was "better prepared than ever before" to confront the virus, Senator Richard Burr, Republican of North Carolina and chairman of the Intelligence Committee, sold hundreds of thousands of dollars' worth of stock before the markets plunged. Three other senators — Dianne Feinstein, Democrat of California; James Inhofe, Republican of Oklahoma; and Kelly Loeffler, Republican of Georgia — also sold major holdings, according to disclosure records. – New York Times 3/20/2020
"While the calamity we are experiencing is not Trump's doing, his dishonesty and incompetence have exacerbated it, and continue to do so. To point this out is not to dwell on the past but to confront the scale of our present crisis. Trump has been giving daily televised briefings in which he overpromises and spreads misinformation. He makes bad decisions and reverses himself only under the pressure of bad press. That makes frankness about his catastrophic ineptitude imperative."

Michele Goldberg, New York Times 3/20/2020
At a long-winded White House briefing on Friday [3/20/20], President Trump enthusiastically and repeatedly promoted the promise of two long-used malaria drugs that are still unproven against the coronavirus, but being tested in clinical trials.
"I'm a smart guy," he said, while acknowledging he couldn't predict the drugs would work. "I feel good about it. And we're going to see. You're going to see soon enough."
"I would hope that doctors would stick to the science and try to keep a cool head," said Dr. Percio S. Gulko, chief of the division of rheumatology at the Icahn School of Medicine at Mount Sinai. "Somebody is prescribing it for people who are trying to get it, in some instances preventively. They may just be depriving the patients who do need it for an established indication, for a possibility or a speculation." – New York Times
---
March 19, 2020

New York Gov. Andrew Cuomo holds a news conference on the latest coronavirus developments. Earlier today, Cuomo warned New Yorkers to be prepared for the number of cases statewide to 'jump astronomically' overnight, as a record 8,000 tests were conducted yesterday. He is also expected to announce new population control measures following the executive order he signed last night requiring all businesses to have at least half of their employees work from home. There are 2,300 confirmed cases in New York state, including over 20 deaths. – Source: NOWTHIS Politics
Trump quotes from the press briefing:
"The media has been much nicer to me since social distancing"
"It's too bad because we never had as good an economy as we had two weeks ago"
"When this hidden scourge is defeated I think we will go up rapidly."
The drug Hydroxychloroquine, long used on malaria and arthritis patients, will be made available "almost immediately"
"There has never been a president in history to do what I've done."
"It's a medical war"
""The federal government's not supposed to be out there buying vast amounts of items and then shipping, you know, we're not a shipping clerk,"
"We were very prepared. The only thing we weren't prepared for was the media."
"Someday, in five years I won't be here. We've done a great job… (the media) is siding with China."
FDA Says It Has Not Approved Hydroxychloroquine for Covid-19 Use
"I will be having a news conference today to discuss very important news from the FDA concerning the Chinese Virus." – Donald Trump
"I only signed the Defense Production Act to combat the Chinese Virus should we need to invoke it in a worst case scenario in the future. Hopefully there will be no need, but we are all in this TOGETHER!" – Trump/Twitter
---
March 18, 2020: "The 'Chinese Virus'"
"I will be having a news conference today to discuss very important news from the FDA concerning the Chinese Virus." – Donald Trump
"I only signed the Defense Production Act to combat the Chinese Virus should we need to invoke it in a worst case scenario in the future. Hopefully there will be no need, but we are all in this TOGETHER!" – Trump/Twitter
March 17, 2020: "I felt it was a pandemic long before it was called a pandemic."
Reported US coronavirus cases in March via @CNN:
3/1: 89
3/2: 105
3/3: 125
3/4: 159
3/5: 227
3/6: 331
3/7: 444
3/8: 564
3/9: 728
3/10: 1,000
3/11: 1,267
3/12: 1,645
3/13: 2,204
3/14: 2,826
3/15: 3,505
3/16: 4,466
3/17: 5,839
"I felt it was a pandemic long before it was called a pandemic" – Donald Trump 3/17/2020
---
March 16, 2020
Asked what it was like to take the test, Trump says, "Not, not uh – something I want to do everyday…you know, it's a little bit of a — it's a little bit of — good doctors in the White House, but it's a test. It's a test. It's a medical test. Nothing pleasant about it."
Asked to rate his own performance: "I'd rate it a ten."
Trump tweets today:
"The United States will be powerfully supporting those industries, like Airlines and others, that are particularly affected by the Chinese Virus. We will be stronger than ever before!" – Donald Trump / Twitter
March 15, 2020: "Relax"
Donald Trump urged Americans to refrain from panic buying basic supplies during the Covid-19 pandemic as the administration announced plans to expand testing for the virus and health officials were preparing to release "advanced guidelines" on how to mitigate its spread.
During a press briefing at the White House on Sunday evening, Trump again appeared to downplay the threat of the novel coronavirus. "Relax, we're doing great," he said, during short, meandering comments that focused mostly on celebrating a decision by the Federal Reserve to lower interest rates. "It all will pass."
The president's remarks stood in marked contrast to his lead infectious diseases expert, Dr Anthony Fauci, who used the same conference to warn: "The worst is ahead for us," describing the crisis as reaching a "very, very critical point now"
– Source: https://amp.theguardian.com/world/2020/mar/15/trump-coronavirus-relax-were-doing-great-expert-worst-to-come
March 13, 2020
"I don't take responsibility at all" – Donald Trump responding to question 'do you take responsibility to the slow response to the virus in the U.S.
After denying that his administration was responsible for any failures in the roll-out of American coronavirus testing, Alcindor had asked Mr Trump: "You said that you don't take responsibility, but you did disband the White House pandemic office, and the officials that were working in that office left this administration abruptly. So what responsibility do you take to that?"
The US president responded by saying: "Well, I just think it's a nasty question …You say we did that, I don't know anything about it."
– THE INDEPENDENT
---
March 11, 2020: Trump addresses the nation
"…Trump missed the mark completely. His Wednesday speech underlined his key weaknesses: His failure to do any homework, his narcissism and his half-baked policy ideas – CNN
"The thing that probably relaxes me most is the easygoing way Trump aides Stephen Miller, a white-nationalist disease expert, and Jared Kushner, an overglorified-realtor disease expert, put this extremely important and long-overdue speech together, not letting themselves get bogged down with stressful things like accuracy or clarity or purpose." – Chicago Tribune
---
"President Donald Trump's new European travel restrictions have a convenient side effect: They exempt nations where three Trump-owned golf resorts are located.
Trump is already under fire for visiting his properties in both countries as president, leading to U.S. taxpayer money being spent at his own firms. The president has been saddled with lawsuits and investigations throughout his term alleging that he's violating the Constitution's emoluments clause by accepting taxpayer money other than his salary." – Politico
---
March 10, 2020 "A lot of good things are gonna happen"
Trump retweeted a post from conservative political activist Charlie Kirk, who referred to the coronavirus (COVID-19) as the "China Virus." Kirk also exclaimed in his tweet, "Now, more than ever, we need the wall…the US stands a chance if we can get control of our borders." Trump retweeted this and added the comment, "Going up fast. We need the wall more than ever!"
On March 10, Sean Hannity, Fox News' most-watched host and a personal friend to Trump, accused the left of creating "hysteria". He attempted to downplay Covid-19 by comparing it to the flu, and also suggested the Democratic frontrunner, Joe Biden, was using it as an excuse to cancel rallies. [ Source: The Guardian ]
"Our pathetic, slow moving Federal Reserve, headed by Jay Powell, who raised rates too fast and lowered too late, should get our Fed Rate down to the levels of our competitor nations. " – Donald Trump / Twitter
---
March 8, 2020
"We have a perfectly coordinated and fine tuned plan at the White House for our attack on CoronaVirus." – Donald Trump
---
March 7, 2020
Trump golfs at International Golf Club West Palm Beach, Florida
After golfing he says: ""I like this stuff (science). I really get it. People are surprised that I understand it… Every one of these doctors said, 'How do you know so much about this?' Maybe I have a natural ability. Maybe I should have done that instead of running for president."
March 6, 2020: "Our numbers are lower"
"Anybody right now, and yesterday, anybody that needs a test gets a test. They're there. And the tests are beautiful…. the tests are all perfect like the letter was perfect. The transcription was perfect. Right? This was not as perfect as that but pretty good." – Donald Trump
(visiting the CDC) "I like this stuff. I really get it. People are surprised I understand it. Every one of these doctors said, 'How do you know so much about this?' Maybe I have a natural ability.' Maybe I should have done that instead of running for president."
"Our numbers are lower than just about anybody" – Donald Trump
"Anybody who wants a test can get a test. That's the bottom line."
March 4, 2020: "Some of them go to work, but they get better"
"If we have thousands or hundreds of thousands of people that get better just by, you know, sitting around and even going to work — some of them go to work, but they get better." – Donald Trump
March 3, 2020: "Quickest response in modern history"
Trump touted his government's response as the "quickest and most aggressive response in modern history," contending he "marshalled American industry and science."
And when it came time to start work on a possible vaccine, he claimed his team "raced" to get that complicated and time-consuming work started.
Source: THE INDEPENDENT
March 2, 2020: Vaccines "relatively soon"
President Donald Trump on Monday brushed off concerns that holding rallies presents a public health risk, even as companies are canceling major events and restricting travel.
"These were set up a long time ago," Trump told reporters Monday during his White House meeting with Colombian President Ivan Duque.
"And you could ask that to the Democrats, because they're having a lot of rallies, they're all having rallies, they're campaigning," he added. "I think it's safe, I think it's very safe."
"A lot of things are happening, a lot of very exciting things are happening and they're happening very rapidly."
"They are going to have vaccines I think relatively soon" – Donald Trump
---
February 28, 2020: "Their new hoax"
"Keep America Great Rally" at North Charleston Coliseum – North Charleston, SC
During the campaign rally in South Carolina, Trump likened the Democrats' criticism of his administration's response to the new coronavirus outbreak to their efforts to impeach him, saying "this is their new hoax." During the speech he also seemed to downplay the severity of the outbreak, comparing it to the common flu.
"We're ordering a lot of supplies. We're ordering a lot of, uh, elements that frankly we wouldn't be ordering unless it was something like this. But we're ordering a lot of different elements of medical."
---
"This is their new hoax" – Donald Trump 2/27/2020
February 27, 2020: "A miracle"
"One day it's like a miracle, it will disappear." – Donald Trump / Twitter
---
February 26, 2020 "Couple of days…"
Trump tweets: "The 15 (cases in the US) within a couple of days is going to be down to close to zero."
"We're going down, not up." – Donald Trump / Twitter
February 25, 2020
"People are getting better… they're all getting better" – Donald Trump 2/26/2020
One day after the Dow Jones had its worst day in two years on coronavirus fears, the Centers for Disease Control and Prevention warned Americans that it is all but a certainty that the deadly virus will spread throughout the United States.
Today's quotes from Trump:
"…the Democrats are politicizing the coronavirus… They tried the impeachment hoax … and this is their new hoax." (to Sean Hannity)
"It was an outside source which nobody would have predicted six months or three months ago. Nobody would have ever predicted [it], but let's see; I think it is going to be under control…. We do business with a lot of other countries and we take care. We want other countries to be happy, healthy, and well. They've got to be happy, healthy, and well. That is very simple."
"I think [Coronavirus] is a problem that's going to go away, but we lost almost a thousand points yesterday on the market and that's something you know — things like that happen where and you have it in your business all the time — had nothing to do with you."
"… They have studied it. They know very much. In fact, we're very close to a vaccine."
---
February 24, 2020
"The Coronavirus is very much under control in the USA… Stock Market starting to look very good to me!" – Donald Trump / Twitter
February 10, 2020
"In April supposedly it dies with the hotter weather" – Trump 2/10/2020
February 2, 2020
"We pretty much shut it down coming in from China." – Trump 2/2/2020
February 1, 2020: Trump golfs for the 245th time as president
The [international] death toll from the coronavirus epidemic grew to 259 on Saturday as the eighth case was reported inside the United States.
As the outbreak grew, the president of the United States spent Saturday at Trump International Golf Club in West Palm Beach while vacationing in Mar-a-Lago.
According to Trump Golf Count, it was his 245th day as president spent at a golf course.
Source: RawStory
January 24, 2020: Trump thanks China
Trump/Twitter 01/24/2020:
"China has been working very hard to contain the Coronavirus. The United States greatly appreciates their efforts and transparency. It will all work out well. In particular, on behalf of the American People, I want to thank President Xi!"
January 12, 2020
"We have it totally under control. It's one person … coming in from China" – Donald Trump 1/12/2020